Artistic Tile Holds Grand Opening of Slab Gallery
---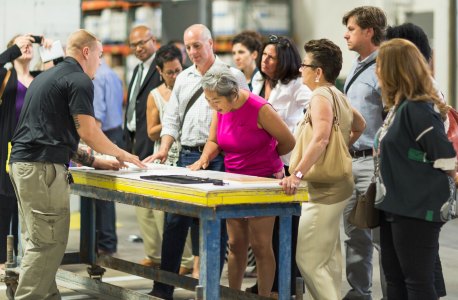 June 29, 2015
Artistic Tile, Inc. tile and stone celebrated the grand opening of its new slab gallery in Secaucus, N.J. A celebration with members of the trade community took place in June at the company's brand new 25,000-sq.-ft. slab gallery. Completed in November 2014, the slab gallery is an extension of Artistic Tile's existing headquarters and distribution center and offers a selection of slabs from around the world arriving every week, including marble, limestone, quartzite, granite, semi-precious stone and a wide library of commercially-rated porcelain and stone products. 
"It seemed like a natural to add slabs to our selection of ceramic, porcelain, glass and proprietary waterjet designs," said Nancy Epstein, founder & CEO of Artistic Tile. "Artistic Tile is now a one-stop shop for tile and stone needs."
An evening of signature cocktails, delicious hors d'oeuvres and a dramatic mix of circus acts and street entertainment was preceded with a special presentation by Houzz.com offering guidance on how companies can use social media to promote their businesses. Lindsey Thudin of Houzz.com's Community Team explained that more than 500,000 active professionals visit Houzz.com primarily to share home building, design and remodeling ideas, which will ultimately lead to the buying and selling of products and services. It is these users who will be future customers.
The Artistic Tile slab gallery is open by appointment.