Ashley Norton Launches Online Custom Hardware Design Tool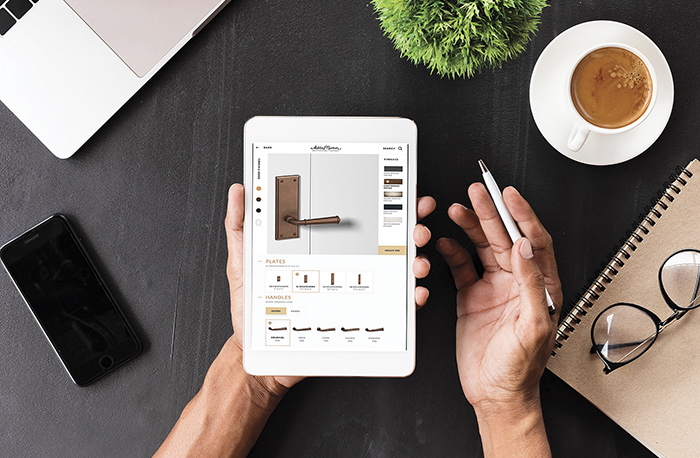 December 11, 2020
Architectural hardware designer and manufacturer Ashley Norton makes it easier than ever to make a cohesive design statement throughout any project. The company's new Virtual Hardware Designer on www.ashleynorton.com allows anybody to create their own custom interior hardware configuration from countless combinations, all of which could never be displayed in the catalog or online. The online tool lets users pair any plate with any handle, in any available finish, to create their ideal look. Rather than leaving the final results to the imagination, the tool allows designers and end users to visualize their combination, leaving nothing to chance.
"The Virtual Hardware Designer gives our customers the ability to experiment, create their own custom looks and essentially shop the innumerable combination possibilities right from home," said Ashish Karnani, vice president of Ashley Norton. "Our design tool is especially helpful now with so many people working from home due to COVID-19."
To create the perfect statement-making combination, users start by selecting the Solid Brass or Solid Bronze collection. From there, they can choose their desired plate profile. In the brass collection, they can select from square roses, round roses or back plates. The bronze collection offers a variety of profile suites including Urban, Rectangular, Angular, Curved, Arched, and Round/Oval.
Next, users pick the desired lever or knob profile from the company's flexible hardware line. With five bronze finishes and nine brass finishes available, designers can select the one they envision for each project. To create the most accurate interpretation, users can place their creation on an oak, walnut, wenge or white background and choose the finish that most closely matches their door. Finally, custom combinations can be saved as PDF files to be shared or printed as needed.
The Virtual Hardware Designer includes indoor hardware only.