Beko US Sponsors Chicago Community Rink and Youth Hockey
---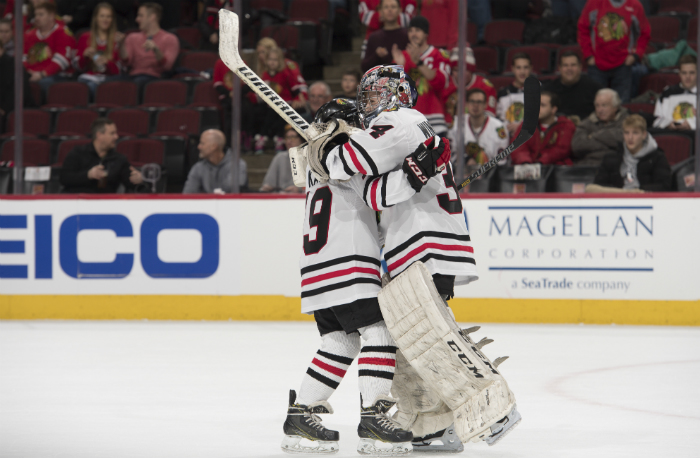 January 19, 2018
Beko US joins the Chicago Blackhawks' star-studded lineup with its sponsorship of MB Ice Arena – Chicago Blackhawks Community Rink and Chicago youth hockey. Beko, the European freestanding home appliance brand recently introduced into the North American market, is based in the Chicago area.
As part of the recent Beko Home Appliances 1-on-1 Challenge, Squirt youth hockey players engaged in a shootout competition at MB Ice Arena on Jan. 3. The finalists were shooter Ilija Marich, 10, Evanston, Ill.; goalie Bella DiSilvestro, 10, Roselle, Ill.; shooter Dylan Kaye, 10, Beecher, Ill.; and goalie Jake Windbiel, 9, Elk Grove Village, Ill. The four were paired up to play for the championship in front of a sellout crowd at the United Center during the intermission of the Chicago Blackhawks home game on Jan. 7. The winning team of Kaye and Windbiel will attend the 2018 NHL All-Star Game in Tampa Bay, Florida, from Jan. 27-28 to compete against other Squirt-age winners from around the NHL.
Beko has a permanent presence at MB Ice Arena with two board signs on each of the facility's two NHL-sized ice rinks. The arena is not only the practice home for the Chicago Blackhawks but also a critical community space that offers programming, beginner hockey classes, youth and high school hockey leagues and public skate. It is also home to adult recreational hockey leagues, elite-level tournaments and fundraising events.
"One high-performing team deserves another," said Hasan Yardimci, president, Beko US, Inc. "Beko is committed to the value of teamwork and giving families more time to play."