Belwith Keeler Celebrates 130 Years in Business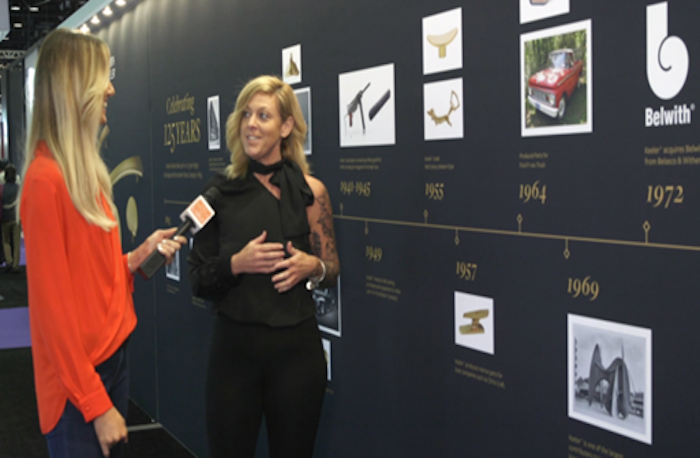 January 14, 2023
Most companies don't get the chance to celebrate their tridecacentennial (130th) anniversary. In 2023, luxury decorative hardware brand Belwith Keeler Décor Solutions marks into a milestone: its 130th year of operation. And how do you mark such an occasion? By making plans for the next 100 years.
"Good design is timeless, and Belwith Keeler Décor Solutions remains a leader and trend-setter as we head into our 130th year of business," says George Garifalis, president of Belwith Keeler Décor Solutions. "We're ready to celebrate our legacy and unveil plans that expand our offerings and take Keeler into the next 100 years."
A Rich Legacy Since 1893
Keeler Brass Company (Keeler) was founded by Miner, George and Isaac Keeler in 1893. When they entered the brass industry, they already had a history of working together successfully.
When the three brothers took on the failing Middleville Manufacturing Company in 1893, they planned to turn it around quickly. Instead, they took control, starting with the leadership of Miner S. Keeler whose namesake became the brand, followed by his son and grandson, building an enduring dynasty. From the start, the Keeler name has been synonymous with design leadership, high-quality production, and impeccable craftsmanship. The company proudly continues these long-revered traditions 130 years after its founding.
In fact, the company boasts a living library containing hundreds of original drawings, images, and internal documents that have been archived over the years at its Michigan headquarters. From supporting the American efforts in both World Wars to enduring the Great Depression, Keeler has observed a long history of creative development and perseverance. Over the years, when changing times closed many other local businesses, Keeler's long-held belief in innovation enabled the company to emerge stronger than ever.
"For decades, Keeler has been at the forefront of providing brass and metal designs for not just furniture and cabinetry, but for the car industry, manufacturing war parts and much more," shares Knikki Grantham, creative director, Belwith Keeler Décor Solutions. "And today, we carry on the same legacy and commitment to style and quality. To us, this is not merely hardware, it's jewelry. The accent details that make a piece of furniture or an interior space more beautiful."
The company's major milestones include:
• 1890: Middleville Manufacturing Company is founded by the Keeler brothers, their father Isaac and other Middleville investors
• 1893: Miner Keeler, with his brothers Isaac and George, took over control of the company and renamed it Keeler Brass Company
• 1914: Keeler produces refrigerator trim for appliance companies such as Kelvinator, a Grand Rapids-based company
• 1951: Cedar Springs plant is completed. Keeler earns the title "most modern zinc die-casting plant in the world"
• 1976: Kentwood plant undergoes a $5 million expansion to add chrome-plating process
• 1979: Babcock International buys Keeler
• 2009: JVA Partners acquires Keeler. The company is once again privately owned for the first time since 1979
"The Keeler Brass story is truly remarkable and inspiring. It is about people who were fueled by strong values and triumphed over adversity," said John Veleris, chairman and CEO, Belwith Keeler Décor Solutions. "It is an honor for our team to be the custodian of the Keeler legacy, artistry and innovation for the next generation and beyond."
Belwith Keeler will be exhibiting at KBIS in Booth N1323.