Benjamin Moore Opens New Showroom
---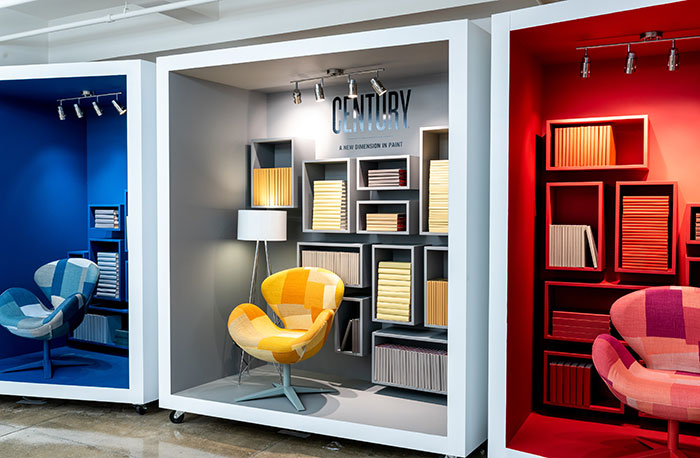 June 26, 2018
Last week Benjamin Moore opened a new showroom located in the New York Design Center at 200 Lexington Avenue. The showroom provides a space for designers to work, bring their customers and review projects. Meant to act as a "Color Gallery" to offer color inspiration and product education, the showroom will feature the below key areas: 
Color Gallery: Rotating artwork featuring Benjamin Moore product and color

Description: "Theme and Variations" created for Benjamin Moore by The Alpha Workshops, Inc., is comprised of several panels that were created using their signature Negoro-nuri painting technique.

 

Featuring the Benjamin Moore Color Trends 2018 palette, this technique involves painting layers of different colors on boards and then sanding away each layer to reveal the color underneath. The artisan's hand dictates the result by following a process to its end or following a process with a plan toward a final design. The Alpha Workshops team found several natural color combinations within the palette of 23 colors, and explored some of their favorite combinations in the artwork shown.
Current: Aura product in the Color Trends 2018 color palette designed by members of Alpha Workshops under the guidance of Edward Farrell, Studio Project Manager, Alpha Workshops.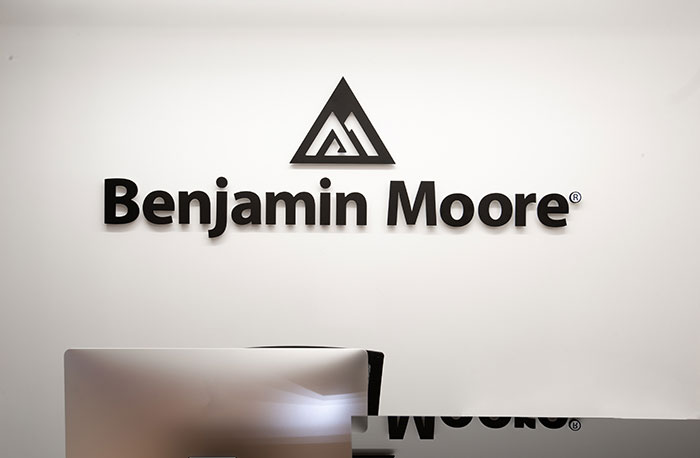 Color Inspiration: Rotating vignettes featuring Benjamin Moore product and color

Description: Three library vignettes, painted in CENTURY's Blue Muscari, Marcasite and Madder Red illustrate the unparalleled depth of color and breadth of color choices available in the CENTURY palette. This trio of colorful reading rooms are accented with a library chair upholstered in 'Collage' from the Peter Dunham textile collection, courtesy of Hollywood at Home.
Current: CENTURY product and colors designed by Ellen O'Neill, Director of Strategic Design Intelligence, Benjamin Moore.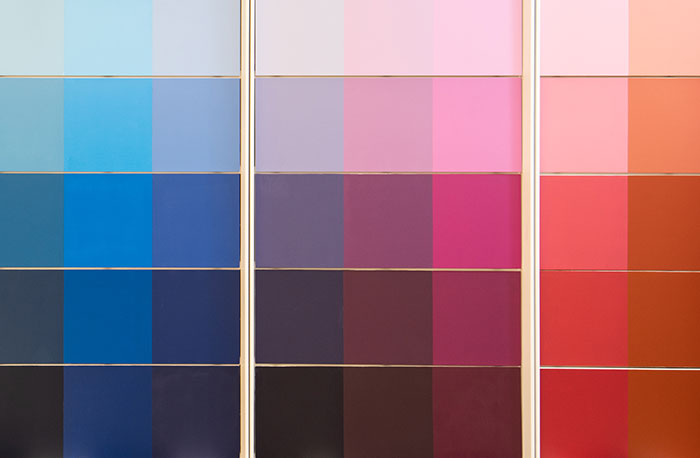 Color Decision: Work tables, color selection light box and product sample boards

Description: This area boasts two 36×72 work tables where designers can work and bring their customers to meet and review projects.
Color Vault: High-tech, color selection light box, work table and 4000+ designer color sheets
Description: The high-tech color vault is reminiscent of bank, housing thousands of color sheets and chips.

 

With the state-of-the-art technology, this vault makes it easy to view and source a wide array of colors.

Classroom:  Education, presentation and meeting space

Description: The perfect area to host discussions or educational classes, this section holds up to 50 people and can be configured in numerous ways. Tables can be setup for conference/meeting, banquet and classroom styles or tables can be removed altogether for theater style seating.