Bertazzoni Launches Experience Center in San Francisco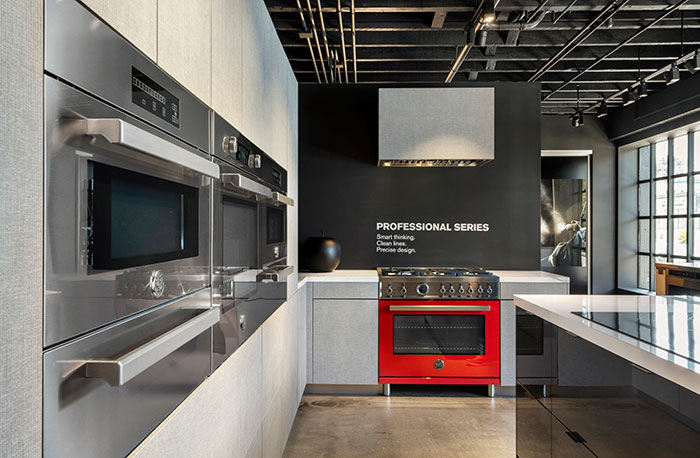 June 23, 2022
Bertazzoni, the six-generation, family-owned Italian manufacturer of award-winning appliances, is pleased to announce the opening of its first Casa Bertazzoni experience center in the United States. Located in the heart of San Francisco's Design District, the space reflects the principle that Bertazzoni is an experiential brand that enables today's kitchens to create beautiful, personalized environments. The announcement comes as Bertazzoni celebrates its 140th anniversary in 2022, a major milestone and testament to the brand's ability to honor its heritage while continually innovating for the future.
Modeled after Casa Bertazzoni in Italy – the company's global headquarters – the new 2,000-sq.-ft. space in San Francisco serves as a resource for retail partners, architects, designers, builders, developers and homeowners. The experience center offers a comprehensive selection of Bertazzoni products that span best-in-class cooking appliances, refrigerators, dishwashers, ventilation and accessories.
"We're a brand of global relevance, with a reach across North America, Europe and Asia–and the U.S. is one of our key markets," said Nicola Bertazzoni, chief operating officer and sixth-generation family member of Bertazzoni. "We're thrilled to build on our promise with this tangible Casa Bertazzoni experience center that truly brings the brand values of food, family, and engineering to life. By virtue of reputation as a national hotspot for the arts and innovation, attracting creatives and tastemakers from across the world, San Francisco is a fitting location for our first stateside experience center. We're looking forward to hosting guests from the U.S., Canada and beyond."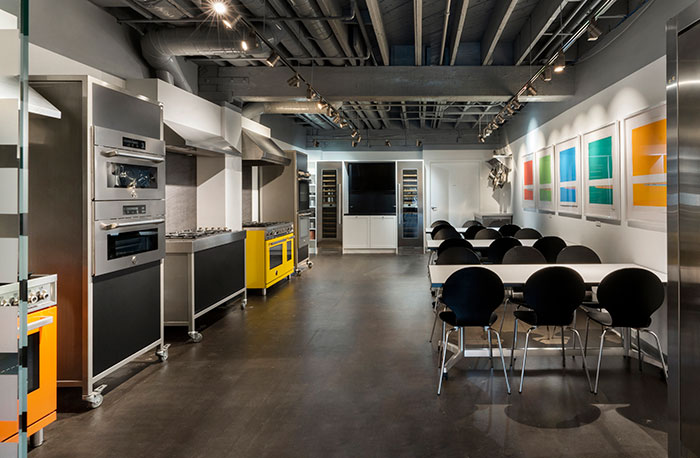 The space is designed to showcase the distinct identity of Bertazzoni's three series — Professional, which features clean lines, bold colors, and a contemporary inspired form factor; Master, a showcase of traditional elegance; and Heritage, which blends the brand's authentically classic shapes from the past with traditional styling for today.
"We created a unique layout of the space that immerses guests into each of the three series, conveying the unique design vocabulary and ambiance yielded by each of the styles," said Valentina Bertazzoni, head of brand & style and sixth-generation family member of Bertazzoni. "The overall experience is a journey of discovery and delight. Though we showcase a variety of products, it's our philosophy that there is a design harmony within each style, creating a cohesive kitchen ambience. What's more, we believe that design is also a tactile experience. We're pleased to welcome guests to not only see, but also touch and feel the beauty of the products – as well as trying their hand at cooking, with the opportunity to understand what the experience will be like at home."
The Bertazzoni experience center was developed in partnership with Purcell Murray, the distributor of Bertazzoni appliances throughout the Western U.S. Elaine Murray, interior designer (CMKBD), collaborated with Valentina Bertazzoni on the design and creation of the space.
"While the experience center presents several cooking technologies, one of the key draws is the presentation of Bertazzoni's induction capabilities," said Kevin Murray, co-owner at Purcell Murray. "We wanted to capture the magic of Casa Bertazzoni in Italy and translate that for the needs of our market. We're excited to share Bertazzoni's world-class design, engineering, and Italian craftsmanship with new audiences in the west."
Casa Bertazzoni in San Francisco is located at 245 Kansas Street, San Francisco and is open to customers and design professionals.