Best Practices for Sourcing Kitchen and Bath Products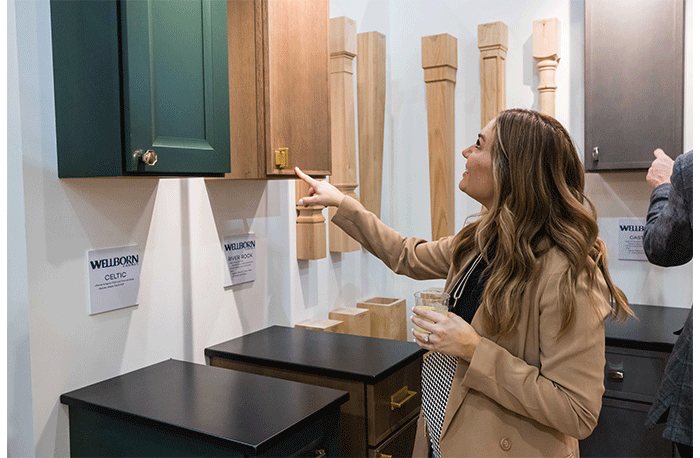 February 24, 2023
Over the years, Wellness Within Your Walls has instituted a series of best practices to help designers determine which kitchen and bath products to source. We won't certify suppliers who aren't completely forthcoming about the health-impacting attributes of their offerings. Of course, our designers also need to know the kitchen and bath products they are using are truly sustainable, and we must have confidence that specified products will be available when designers need them.
Disclosure works downstream from us, too. Wellness Within Your Walls-certified designers are fully transparent with their clients when framing expectations. Prior to specification, designers always  investigate a manufacturer's full range of product offerings and capabilities. The brands they recommend must not only be true to design intent but also honor the vision of a project.
After meeting aesthetic requirements and wellness imperatives, a manufacturer's capabilities are vetted based on two key criteria, because we'd rather set expectations than manage them.
Are these kitchen and bath products available now?
Is there adequate inventory to ensure they will be consistently available in the future?
I recently reached out to two brands to get a sense of how they've responded to these difficult conditions when it comes to providing products in a timely manner.
Increased Capacity Makes the Difference

I'm a big fan of quartz surfaces. They're easy to sanitize, sustainably sourced and beautiful – a healthy addition to any kitchen or bath. A brand for quartz surfaces we've recognized recently is Vadara. It's unique because the material is handcrafted, and the veins in the quartz extend into the slab, providing greater design opportunities. I spoke with Ed Rogers, Vadara's executive vice president, about how the company has weathered the supply chain storms.
"When the world was beginning to shut down in the winter of 2020, we expanded our manufacturing capacity threefold," he said. "Fortunately for our customers, when it became obvious there was a problem with international shipping, our product was already sitting in ports on both U.S. coasts."
Several brands have reacted to product availability challenges by raising prices. However, that hasn't been the case with Vadara.
"We didn't want to take advantage of the situation," added Rogers. "While it's true the cost to ship around the country increased significantly, we felt it was a better business decision to absorb a lot of those costs and instead expand our capacity and run our operations more efficiently."
As a designer, I appreciate the thoughtfulness behind that decision and the focus on the customer.
Building a Bridge, Literally

With finishes and designs to meet a range of aesthetics, Amba heated towel racks piqued our interest. When researching the company, we learned it was recently recognized by the Decorative Plumbing and Hardware Association with the Customer Service of the Year Award. I reached out to Peter Manidis, Amba's marketing manager, to get some insight on how the company managed to transform a logistics nightmare into award-winning customer service.
"We inventory our full line just north of Atlanta, based on the transportation advantages of the location," said Manidis. "In 2021, our area was hit by storms that not only knocked out the power, but the ensuing flood washed out the bridge connecting our facility to the outside world. Without the bridge, there were no deliveries in or out, and we didn't know how long that would last."
Being committed to meeting customer needs meant the Amba team had to pivot immediately.
"We needed to find ancillary warehouse space fast," added Manidis. "Two storage facilities provided some flexibility and redundancy, but some orders required us to leverage our existing facility – the one on the wrong side of a washed-out bridge. This involved our team navigating a makeshift high wire walkway to hand carry boxes one by one. Pulling together to stay in business, maintain our schedule –  and keep commitments to our customers was always our primary focus."
Fortunately, the bridge is back in service and Amba is once again in a single facility.
Expecting the Unexpected

The key to meeting and overcoming difficult situations is a combination of planning ahead and having solid, trusted relationships in place. At Wellness Within Your Walls, the work we've accomplished in the past has helped prepare the channel for the current environment. We're committed to continuing to do business with integrity and with like-minded partners, and I feel confident that this disciplined approach will see us all through whatever the future may bring.
Jillian Pritchard-Cooke is founder and CEO of Wellness Within Your Walls, a wellness education and certification company for the home industry, and president of DES-SYN, an Atlanta-based design firm.