Big Chill Launches Refreshed Website
---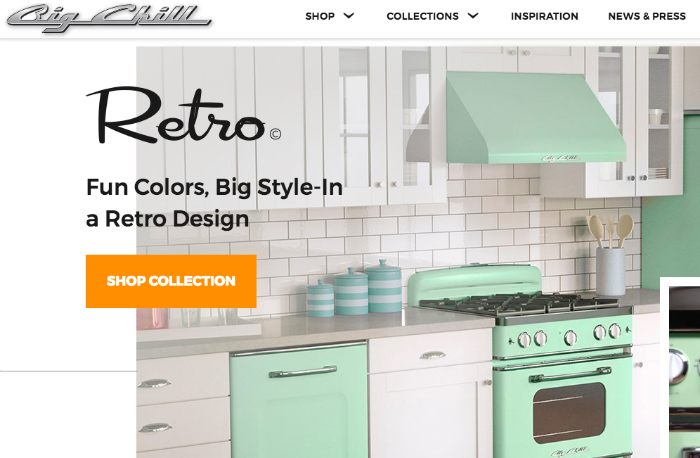 March 2, 2018
Big Chill, an international professional-grade kitchen appliance manufacturer, has unveiled a re-energized website equipped with improved navigation aimed at enhancing customer service. Truly modern in capability but retro in aesthetic, the new interface affords customers a way to engage with Big Chill's product portfolio prior to purchase. The updated website boasts a plethora of customer-centric features, including interactive videos and rotating images available through thoughtfully characterized galleries that bring each product to life in a new way.
Big Chill's customizable offerings were top of mind in this redesign and are highlighted through interactive development tools and accessible customer service solutions, now available at the click of a mouse. These new features capture the brand's essence through the application of Big Chill hand-drawn, branded icons and fonts seamlessly melding with all screen sizes. From mobile phones to large-format desktop monitors, the latest platform can be engaged from anywhere, providing a more expedient shopping process. Touching upon Big Chill's e-commerce capabilities, the website's updated format also allows for faster processing at checkout.
"We are using the newest tools available in design, as well as a greater range of content options to present our story in different ways," says Big Chill founder Orion Creamer.  "We are also allowing users to have a more interactive experience so they can really experience the product. The website is an extension of our company's DNA, so it will always be growing and changing, but most importantly we'll keep it fun, relevant and interesting for our customers."
The new platform is designed to evolve with Big Chill's growing product offerings, most notably the Retro, Pro and Classic lines, in addition to those to come. History and inspiration are also given a home on the website with information on how the brand came to be and the passionate designer behind its founding. Presented in an organized manner, the website has been crafted to share not only the products with customers but the brand's fun-loving spirit.