Bosch Home Appliances and Drop Debut Smart Kitchen Partnership in U.S.
---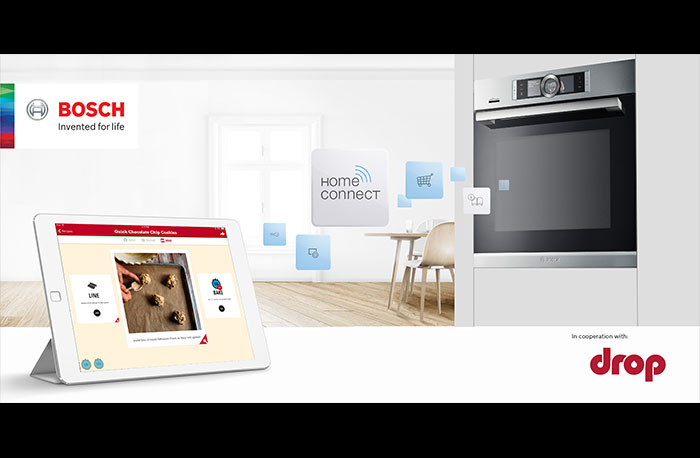 August 21, 2017
Bosch Home Appliances has announced a smart kitchen integration with Drop that simplifies the cooking experience like never before. Beginning today, the Drop Recipes app is fully integrated with the Bosch Wall Oven, with Home Connect in the U.S. This partnership provides Bosch users with access to Drop's growing digital recipe book featuring more than 700 recipes from renowned chefs and contributors including Food52, Good Housekeeping, Donal Skehan, The Kitchen Paper and The Sophisticated Gourmet, among others. Through the app, users can connect to the Drop Scale for seamless step by step recipe instructions and monitor or control a variety of cooking functions including recipe time and temperature for a simplified, interactive cooking experience.
"We're excited to introduce these smart kitchen capabilities to the U.S. market as we continue on our mission to make the connected kitchen a reality for everyone," said Ben Harris, CEO of Drop. "Kitchens are getting smarter, and our partnership with Bosch illustrates the value these smart functions bring to everyday life. We're thrilled to be working with a partner such as Bosch, our first official kitchen appliance partner, who shares in this vision for a truly connected kitchen and home."
Through Home Connect and Drop, Bosch is introducing a new layer of intelligence and convenience to the kitchen that will help home cooks at every level enjoy a simplified cooking experience. The Drop Recipes app and Connected Scale add to the expansive list of smart functions currently offered by the Bosch Wall Oven, with Home Connect. In addition to the new Drop-enabled functionalities, the Bosch Wall Oven provides an array of smart features via the Home Connect App, including remote diagnostics, maintenance and care, as well as the ability to seamlessly purchase appliance accessories.
"As a brand committed to developing solutions that simplify life and enrich the kitchen experience for our consumers, we couldn't be happier to bring this partnership to the U.S.," said Anja Prescher, Director of Brand Marketing at Bosch home appliances. "Our integration with Drop will help simplify the way our customers cook at home by streamlining the process into a more intuitive and interactive experience."
Bosch has worked diligently on connecting its home appliances to bring easy and intuitive smart control to the kitchen through its open Home Connect platform. Working with and integrating partners such as Drop into Home Connect's open digital ecosystem allows Bosch to continually increase its IoT footprint, as well as provide innovative features and services that benefit the consumer. Home Connect facilitates connectivity and offers a range of beneficial applications that allow for a worry-free daily routine, from doing the dishes, to brewing coffee and remotely controlling the oven.