Brian Brown Opens San Diego Showroom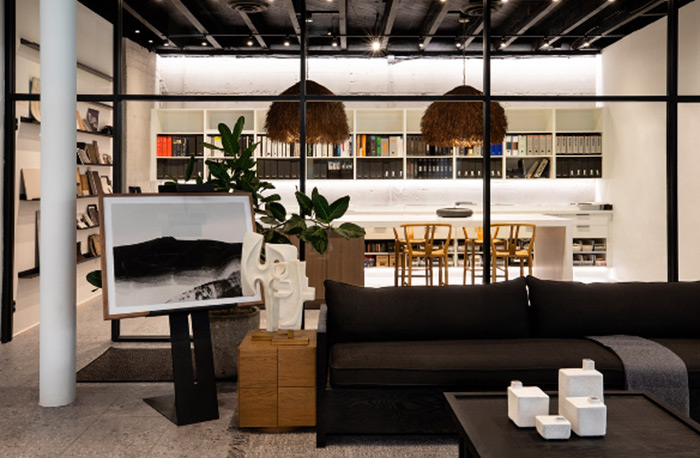 April 3, 2023
Renowned interior designer Brian Brown expands his Brian Brown Studio offices and adds a San Diego showroom with a move to the historic Hillcrest Design Center. The airy and tree-dappled Brian Brown Studio & Showroom officially debuts May 2023. It will include an open-to-the-public showroom featuring top-end design furnishings, many of which cannot be found anywhere else in the San Diego area. 
"We had outgrown our last studio a while ago," said Brown, a San Diego born-and-bred entrepreneur. "It was tough to find a new spot that would meet all our needs. For years, I have loved the design, history and look of the Hillcrest Design Center. When a space became available here, I jumped at the chance to be a part of history. And to finally open the showroom that I have always wanted to create." 
The new Brian Brown Studio & Showroom, a 2,700-sq.-ft. space located on the second floor, is nestled amongst the trees. Step through the doors, and you'll discover a stunning resource library that serves as the heart of the showroom, where clients can sit and discuss projects while admiring the view of nature through the full-length windows. Immerse yourself in the atmosphere of the residentially styled showroom featuring a large open kitchen and multiple living areas—all designed to inspire creativity and innovation. 
The Brian Brown Studio & Showroom will be the only place in San Diego to view many of the brands featured, which will include Arteriors (lighting, accessories, furniture), Art Nova (furniture), Baker & McGuire (furniture), Brizo (plumbing products), Case and Canvas (sectionals), Caesarstone (surfaces), Elitis (wallcoverings), Emtek (hardware), Fisher & Paykel (appliances), Four Hands (furniture, rugs, accessories and art), Gloster (outdoor furniture), Harbour (outdoor furniture), Jaipur (rugs), Loloi (rugs), Manutti (outdoor furniture), Mogg (lighting, accessories and furniture), Porada (furniture), Tribu (outdoor furniture), Verellen (furniture) and Visual Comfort (lighting), among others, plus an array of candles and homewares to fit any lifestyle. 
The iconic Hillcrest Design Center was designed by Lloyd Ruocco who is widely credited with pioneering the post-war modern architectural movement in San Diego. Completed in 1949, it is a typical example of Ruocco's early design. Built primarily of redwood and glass, the low-lying structure features a flat roof, floor-to-ceiling windows and impressive decks nestled into a canyon—all core design elements of California Modernism. The openness of the design reflects Ruocco's concern that a building's relationship with the outdoors should be a harmonious one. It was designated a Historical Resource Site in 1990. 
Ruocco's studio was located at the Design Center, along with the studio and showrooms of his wife, interior designer and professor Ilse Hamann Ruocco. The couple brought artists, designers, photographers and architects to the Design Center, shaping the city's arts community. The current owners continue that tradition with other design-focused businesses currently including architectural firm RDC and Hollander Design Group, experts in all design disciplines from graphic and product design to architecture and interiors.