BSH Home Appliances Celebrates 25 Years in North Carolina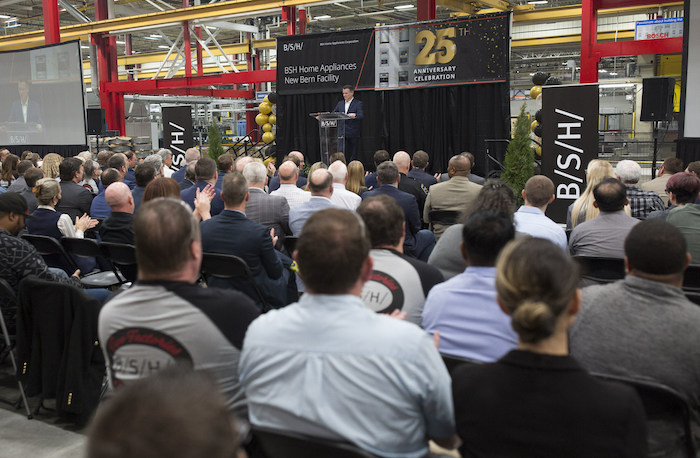 February 17, 2023
BSH Home Appliances Corporation and the New Bern, N.C., community celebrated the 25th anniversary of the opening of the city's BSH Home Appliances campus on February 16, 2023. BSH Global CEO Dr. Matthias Metz joined state and local officials, community leaders, and BSH employees at a special event at the campus to commemorate BSH's innovation, technological advancements and quality of the Bosch and Thermador brand products that are manufactured in the New Bern facility. The celebration also shined a spotlight on 50 current BSH New Bern campus employees who have worked at the facility since its opening in 1997.
Andy MacLaren, US/OP Chief Technology Officer, BSH Home Appliances Corporation, told KBB, "Twenty-five years is a significant milestone, and few companies can claim having double digits of employees in the workforce for this long. At BSH, innovation is fully ingrained in our company DNA and nowhere is that more apparent than in the over 500 inventions disclosed, and 279 U.S. patents granted in the last 25 years, which involved inventors from New Bern itself. The work we have done here has enhanced product lines and moved the industry forward. We look forward to continuing to champion this spirit of innovation and momentum for the next 25 years. I want to thank our employees for the dedication and commitment that is central to our success, and I am grateful for the support of state and local community leaders as we continued expanding our presence in New Bern."
Over the past 20 years, the company has invested more than $428 million in its production network and in advanced manufacturing technologies and processes in New Bern. In 1997, BSH began producing Bosch dishwashers with 280 employees. Since its opening, BSH has manufactured over 13 million dishwashers and has hit record volumes in cooking. Today, the BSH New Bern facility manufactures dishwashers as well as cooktops, ranges and wall ovens with a workforce of more than 1,600 employees.
The facility's first physical expansion was in 2003 with the construction of Building 104 and the start of the Bosch range production. In 2005, the factory began production of Thermador wall ovens and gas cooktop products and added the GV640B production line for the plastic tub bottom dishwasher. In 2019, BSH unveiled a new $32 million, 100,000-square-foot expansion to its New Bern dishwasher facility, providing the company with the capacity it needed to continue its growth. This latest expansion was driven by increased demand for BSH Home Appliances' products – Bosch, Thermador and Gaggenau – across the U.S.
"From the moment we opened our first Bosch manufacturing facility here in New Bern BSH has been committed to supporting the community," said BSH Region North America CEO Christofer von Nagel. "As one of the county's top employers, we are motivated to contribute to and support several local social, educational and charitable organizations. I speak for the entire BSH organization when I express our gratitude to Craven County and New Bern for the valuable partnerships we have developed over the past 25 years."
BSH New Bern supports several philanthropic programs focused on education, environmental conservation, food insecurity, health, wellness and housing, to name a few. Its largest initiative is the Bosch Community Fund, which focuses on the enrichment of Science, Technology, Engineering, and Math (STEM) education. As a result of the fund, more than 1,000 Craven County public school students have participated in STEM programs, and over 100 teachers and counselors have enhanced their job skills by participating in STEM education workshops. The fund has also made it possible for schools and community organizations to purchase much-needed equipment to support teachers and students in their pursuit of STEM education opportunities.
More than 700 people attended the event in New Bern, including local, state and international BSH executives; North Carolina, Craven County, New Bern and Havelock officials; and BSH employees.
—By Leslie Clagett