California Faucets Freestanding Tub Fillers Bust a Move in Video
---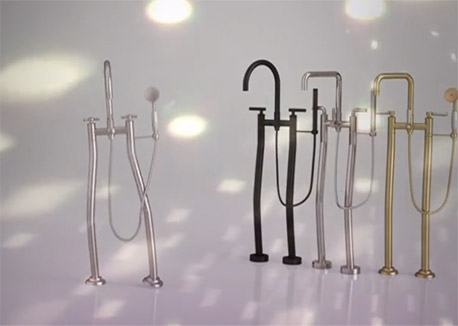 February 5, 2015
California Faucets has released a short video – Tub Filler Fever – to creatively introduce its four new tub fillers. In the imaginative production, the company's original tub filler, the Balboa Series, comes to life and to his astonishment is joined by four new tub filler series, each of which hits the dance floor for a solo performance.
The production fades in with the sound of chirping birds outside the window of a bathroom featuring a freestanding tub with Balboa tub filler. As the Balboa filler morphs from an inanimate object into a life form, it then steps out from the bathroom onto an empty dance floor.
As Balboa is joined by four newcomers, each gives a performance ranging from disco to tapdancing to breakdancing. The newcomers then turn their attention back to Balboa, the original tub filler, who knows it's time for him to bust a move. We hear a lively Irish Jig and see him performing Riverdance.
The creative mind behind the two-and-a-half minute video belongs to Noah Taft, California Faucets senior vice president of marketing and sales. A former writer and producer for film and TV, Taft explains how he came up with the concept, "I asked myself: 'What does a lonely tub filler do all day while the master is away?' The answer? Dance! I figured if people can identify with the character Lumiere from Beauty and the Beast why not a tub filler as well?"