CarbonShack Opens LA Showroom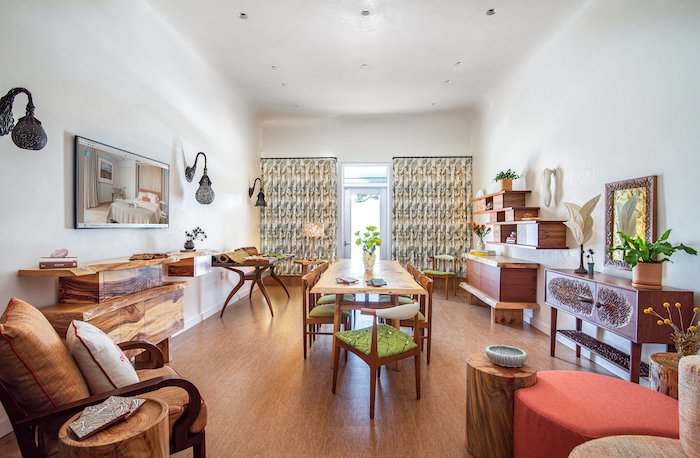 September 25, 2022
Steve Pallrand – ecopreneur and founder of the design firm Home Front Build (HFB) – and his team have launched CarbonShack, a new design firm that explores the seen and unseen natural world through luxurious interiors and singularly unique home furnishings. With a mission of inspiring homeowners to be stewards of the environment, the team understands that green design will only be successful if it prioritizes both beauty and efficiency in its creation of stunning home environments. To that end, Pallrand, who has long specialized in green architecture, building and renovating homes to exceed sustainable building requirements, is opening a showroom of interior products to showcase their holistic approach to home design that seamlessly integrates beauty, comfort and environmental impacts. The grand opening is scheduled for October 6, 2022 in Los Angeles.
The CarbonShack showroom will offer crafted home products – lighting, textiles, decorative tiles, cabinetry, furniture and accessories, including woodwork and metalwork – that celebrate nature in a previously unseen manner. The products are made locally or within an environmentally-conscious distance (300-400 miles); they are made by local workers, including individual artisans; and the manufacturing processes are focused on minimizing environmental impacts.
"With CarbonShack, our team of architects, interior designers and in-house tradespeople are shifting the approach to residential building, and in particular, rethinking interiors to value our natural world in a creative, accessible manner for all," said Pallrand. "We firmly believe that art, design and architecture play a critical role in representing the knowledge and culture of a period, and we hope CarbonShack can help transform our shelters, our homes, into vehicles of change," said Pallrand.
Where traditional art and architecture have looked to the visible natural world for inspiration, CarbonShack turned to the invisible, the microbiome, or the world's community of microorganisms, to celebrate the diversity and complexity of the natural world. Pallrand partnered with his wife Rachel Mayeri, an LA-based artist working at the intersection of art and science for designs. She focused on what is hidden in the environment, "the wild within us," as she calls it. She interpreted microscopic and biomorphic forms into unique, unexpectedly beautiful graphics applied to the products.
Offerings include tiles and light fixtures inspired by web-like mycelium, highlighting the symbiotic relationship between fungi and tree roots; 3D-printed light fixtures which explore the delicate organic structures of diatoms, which are microscopic ocean-bourne photosynthesizers; hand-crafted furniture from reclaimed and locally harvested lumber that reveals the unique beauty of each tree; and carved wood panels that show the evolution of various plant traits, from chloroplasts on a subcellular level to the complex vascular tissue of trees. Much of this can be seen in Pallrand's extraordinary case study called Casa Zero.
"The natural world is beautiful, especially when interpreted with an artistic eye and artisan talent. With our new showroom, we hope to deliver this beautiful interior design imagery through sustainably-sourced materials and products, and help keep the carbon footprint down while supporting a local economy," Pallrand adds.
Pallrand and the CarbonShack team have long been directing clients, through education and more carbon-conscious product choices, towards a more sustainable approach to their homes – from the ground up. And while many clients may not initially understand the scientific concept of embodied carbon and how that is tied to the wood used for their home's frame or the concrete for its foundation, CarbonShack hopes their move into home design products will encourage and allow clients to embrace their environmental values and achieve their premier interior design goals.
In addition to the products, the CarbonShack team works to educate its clients by introducing both modern technologies and historic passive concepts that address energy systems, waste and water. CarbonShack helps users modify certain elements of their home to be more carbon friendly. To help visualize such information, the CarbonShack companion website, SustainableBuild, features different energy calculators that anyone can use to see how much energy their home uses through inputting various factors.
Photo: Nolasco Studios