Casa Bertazzoni Opens at Trail Appliances in Vancouver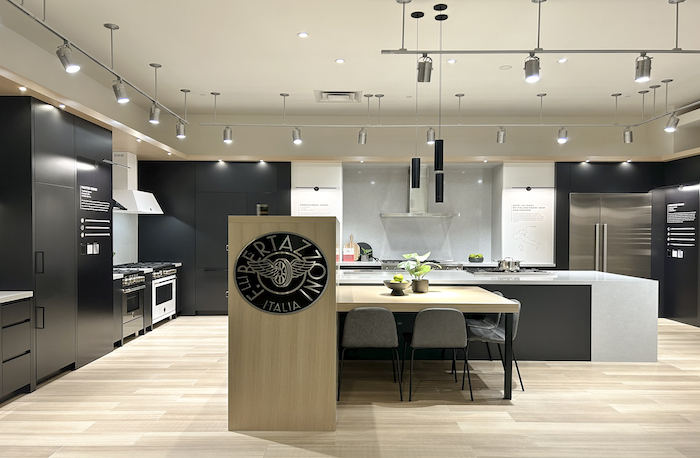 November 20, 2023
Thanks to Distinctive, its exclusive distribution partner in Canada, Trail Appliances has teamed up with the world's oldest family-owned appliance manufacturer, Bertazzoni, to develop the world's fifth "Casa Bertazzoni" kitchen, designed by Vancouver-based interior designer Sarah Gallop.
At the new Casa Bertazzoni, customers will find ample inspiration for their next kitchen. They can explore all the series and options in intricate detail, including colours, handles, cooking knobs and more. Additionally, customers can physically experience the exceptional quality and witness the advanced engineering of these sophisticated appliances up close. In doing so, they'll be able to envision themselves in future family moments centered around dishes whose secrets only they possess.
Explaining how designing a showroom environment differs from working with a private client, Gallop tells KBB, "The biggest difference is the number of appliances we need to fit within a space! The approach we take with the showrooms is finding balance in how to lay out the space in a way that is visually appealing to a homeowner, while fitting in many different lines of appliances within a specific brand. We want the layout to make sense for the sales team who will be using the space to show pieces to homeowners. Not only must it flow seamlessly in their conversation, but the homeowners also have to be able to visualize the pieces within their home – so the spaces need to flow for both purposes."
Bertazzoni appliances draw from the rich culinary and manufacturing traditions of the Northern Italian countryside and came to be known for quality craftsmanship and ambitious design aesthetic. Drawing from innovative yet humble origins crafting wood-burning stoves inspired by the railway, Bertazzoni was founded in 1882 by Francesco and his son Antonio.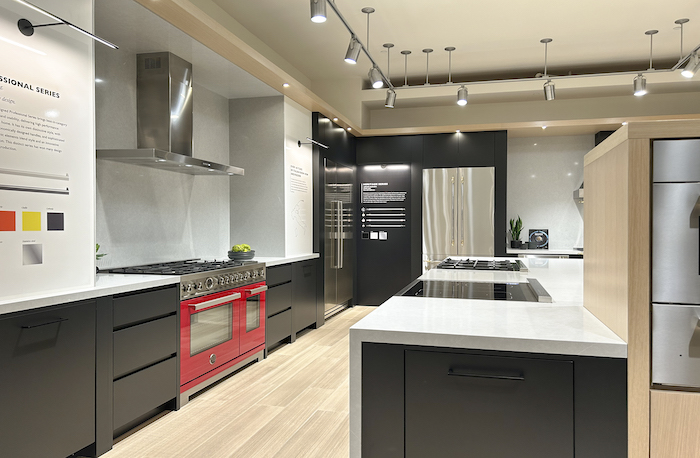 "It's our mission to make kitchen appliances that function perfectly for the lives of our Bertazzoni owners. By making beautiful products we feed their eyes, brains and hearts, and we give pleasure. Our deeper mission is to make people happier by making products that bring joy to their lives," said Nicola Bertazzoni, chief operating officer of his family's Italian heritage brand, who attended the opening of the installation.
"The new Casa Bertazzoni venue created at Trail Appliances in British Columbia guides the customer through a journey of opportunities," Bertazzoni tells KBB. "Whether the focus is on the tactile interaction with the product or the holistic reflection of the complete suite with the homeowner's aspirations, the team at Trail has captured the full essence of the Casa Bertazzoni experience."
''For Distinctive, introducing the Casa Bertazzoni experience at Trail Appliances is our way to continue building on a long-standing trade relationship between Bertazzoni and Trail Appliances,'' said Eric Lapierre, president of Distinctive.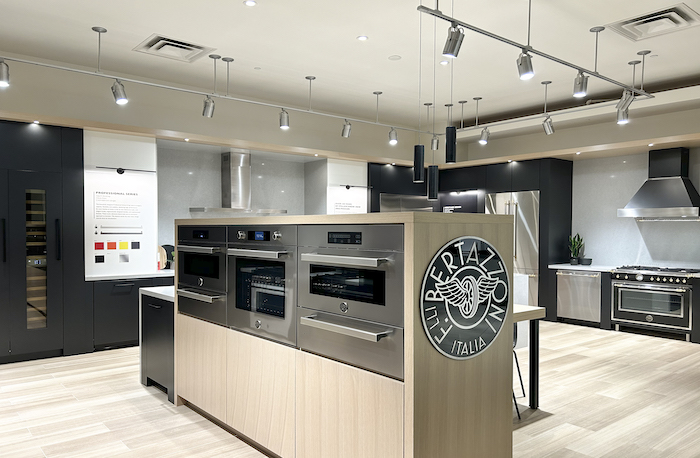 "Trail Appliances and Bertazzoni share similar origin stories, with both companies being family-owned and operated since their founding. We have enjoyed a long partnership with Bertazzoni and are looking forward to celebrating this major milestone in both our businesses," said Julie Hale, senior director of business development for Trail Appliances.
Speaking with KBB, Nicola Bertazzoni concludes, "The leadership at Trail Appliances and Bertazzoni's distribution partner for Canada, Distinctive, had the vision to open this new Bertazzoni destination for customers and convey a tangible awareness of what it means to create an Italian ambiance in their kitchens as the anchor of the home. Together with Trail and Distinctive, we extend an invitation to visit the Casa Bertazzoni at Trail as a step towards creating the kitchen of your dreams."
Photo credit: Briannah Fisher