Cause Marketing with a Conscience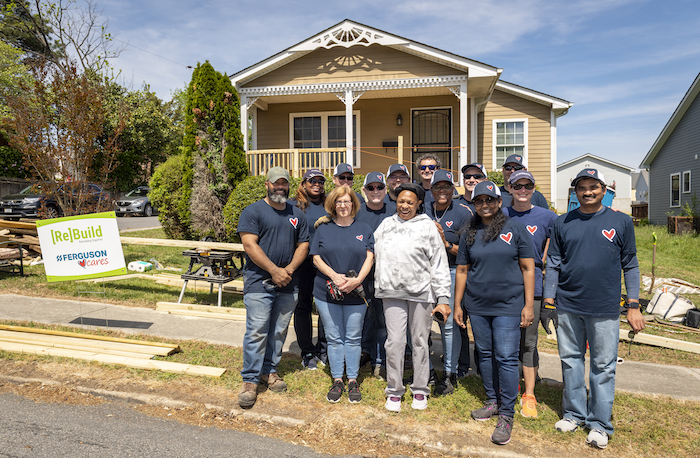 November 14, 2022
With Thanksgiving drawing near, it's an especially appropriate time to share some good news about kitchen and bath brands that are paying it forward. From social causes to environmental concerns, here's a look at how some companies are making a difference in their communities and beyond.
Brondell
Brondell partners with Liftseat and the Walter Reed Military Medical Center's rehabilitation apartments to provide bidet seats, and the company has donated bidet seats to veterans through Mission Plus One and T-Shirts for Troops to help get veterans back into the comfort of their own homes after they're injured in the line of duty.
These bidets not only provide a gentle clean that can help in the healing process, but they also offer comfort and continence care and can lead to improved independence. In the words of one bidet seat recipient, "It was really nice getting an electronic device, figuring out how it works on my own, and not having to contact my daughter to show me how to operate it – especially this type of device."
Elkay
Through Elkay's Fountains for Youth program, fresh, filtered drinking water is provided through the donation and installation of ezH2O Bottle Filling Stations to allow the teaching of healthy hydration habits for life and encouraging access to healthy water for students and educators alike. Elkay also has options to help schools raise funds for bottle filling station installation like the ezWishKit program.
The company is also involved in the community. Chicago's South and West Side neighborhoods have been advocating for improved access to safe, reliable, and clean drinking water for years. With the onset of COVID- 19, many residents were left with even more limitations to access water from parks and other public facilities. Elkay donated 101 bottle filling stations that were installed in the areas' schools, parks, youth centers and community facilities, to bring access to clean drinking water across locations that needed it most while helping reduce single-use plastic waste.
City sites will have the bottle filling stations installed by the AIS union and include select parks and libraries, the Department of Family Support and Services and the Mayor's Office for People with Disabilities.
Ferguson
With support from Ferguson and its associates, communities nationwide will receive essential home repairs as part of the company's commitment and $150,000 donation to Rebuilding Together, the leading national nonprofit organization repairing the homes of people in need. The two organizations are partnering to help people remain where they love, as Ferguson and Rebuilding Together work towards a common cause: safe homes and communities for everyone.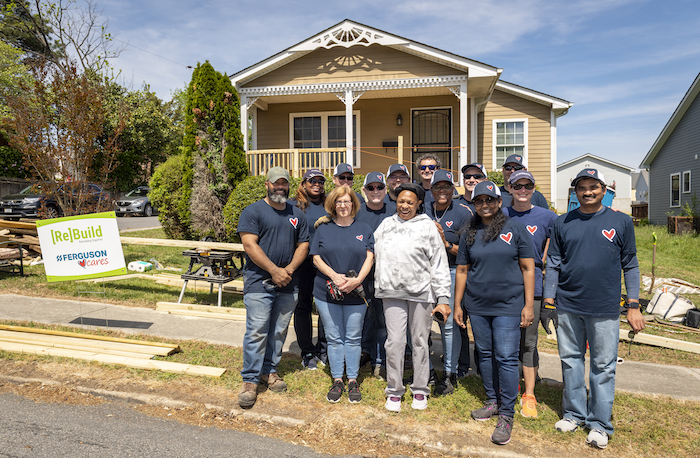 "The Ferguson partnership with Rebuilding Together builds on our company's core success: establishing strong relationships with the people we serve. Ferguson has a long history of actively encouraging our associates to feel more connected to their work by engaging in community service," said Denise Vaughn, vice president of Environmental, Social and Governance at Ferguson. "Our partnership focuses on providing access to shelter and affordable housing which is vitally important in the current economic climate. Ferguson and Rebuilding Together are committed to helping all Americans have access to quality housing, and this partnership is an important step in achieving that goal."
Ferguson's partnership with Rebuilding Together is part of its Ferguson Cares mission to ensure everyone has a decent place to live. The company also serves as the official plumbing supplier of Homes for Our Troops, partners with several affiliates of Habitat for Humanity and supports local organizations working to break the cycle of homelessness and expand access to affordable housing.
GE
In its "The Blue Wave" initiative, GE Appliances (GEA) employees have committed to completing 20,000 hours of volunteering over the next calendar year in the neighborhoods where they live and work on activities that help strengthen the communities and advance equity and inclusion.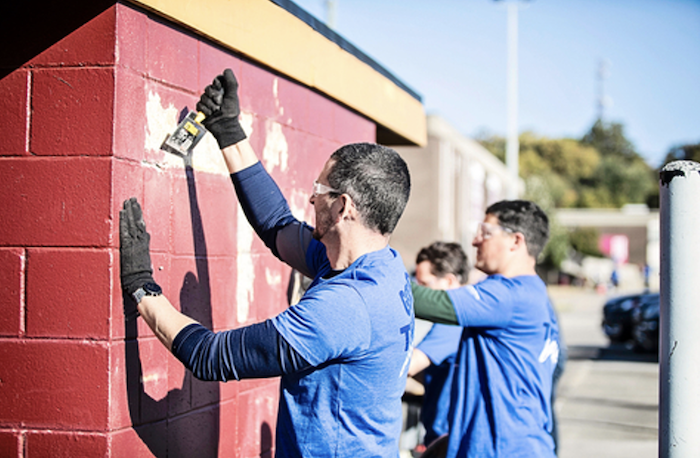 GE Appliances launched The Blue Wave in 2021 to support the Louisville community, the home of its corporate headquarters and largest manufacturing facilities, during a time when the city was tackling the COVID-19 pandemic and addressing racial equity. This year, there are multiple projects in Louisville, but now activities span the commonwealth of Kentucky with projects to support those affected by recent flooding in Eastern Kentucky and tornadoes in the western part of the state. The company's sales and support staff located across the United States have also planned projects in their communities that help feed families affected by food insecurity and/or support those affected by domestic violence. And The Blue Wave is now global with GEA employees in India and Korea supporting education initiatives, projects and causes to support homeless children and aging adults.
"We invent, design and build the world's best appliances, and we believe in building stronger communities," said Kevin Nolan, president & CEO of GE Appliances. "It's who we are as a company and it's what we call the GEA Way. We come together to make good things for life, to create possibilities and to always find a better way. These are the commitments we make within the walls of GEA and to the communities we serve. The Blue Wave is our commitment to helping build stronger, more equitable and more resilient communities across the country and around the world."
LIXIL
LIXIL is a founding member of Design for Good, a consortium of organizations committed to delivering direct and measurable impact against the United Nations' Sustainable Development Goals, on a scale only possible through global collaboration. Design for Good unites an extraordinary alliance of some of the world's largest organizations across technology, food, academia, design and social sectors, with the purpose of harnessing the expertise and ideas of thousands of volunteer designers within each participating organization.
"LIXIL's mission to 'Make Better Homes a Reality for Everyone, Everywhere' is very much aligned with this effort and with the United Nations' SDG," said Jean-Jacques L'Henaff, leader of LIXIL Global Design, Americas. Over the years the company has leveraged its expertise and scale to solve real life challenges for positive impact. From the simple and affordable SATO sanitation and hygiene solutions for the underserved communities of the world, to the latest water-saving American Standard faucets and toilets, LIXIL applies its design and technological expertise to causes that touches the lives of one billion people every day.
LIXIL's corporate responsibility program outlines three areas of focus: Global Sanitation and Hygiene, Water Conservation and Environmental Sustainability and Diversity and Inclusion. "For this inaugural year of Design for Good, we are pleased that the focus is on Goal 6 of the United Nations' Sustainable Development Goals: Clean Water and Sanitation," said L'Henaff.
LIXIL is contributing both resources (20 designers globally on a part time basis) and financial support to Design for Good. In doing so, LIXIL will be an active participant in projects aimed at resolving some of the most pressing global issues highlighted in the UN's Sustainable Development Goals. L'Henaff said, "We hope to unleash our designers' creative talent, ideas and unique ability to solve human problems in the way only design can in collaboration with other design teams across region and industries."
Milgard
This summer, volunteer team members of Milgard Windows and Doors' MI Charitable Foundation built and donated four new playhouses to families of military veterans and active service members in Simi Valley, Calif., home to Milgard's facility.
The Milgard team split into four groups, and each making a different playhouse. Habitat for Humanity of Ventura County and the MI Foundation Simi Valley Outreach Committee coordinated the project.
"We had so much fun building the houses," said Natasha Ramsey, senior regional marketing representative and MI Foundation committee member at the Simi Valley Milgard facility. "It was wonderful to see the kids so excited."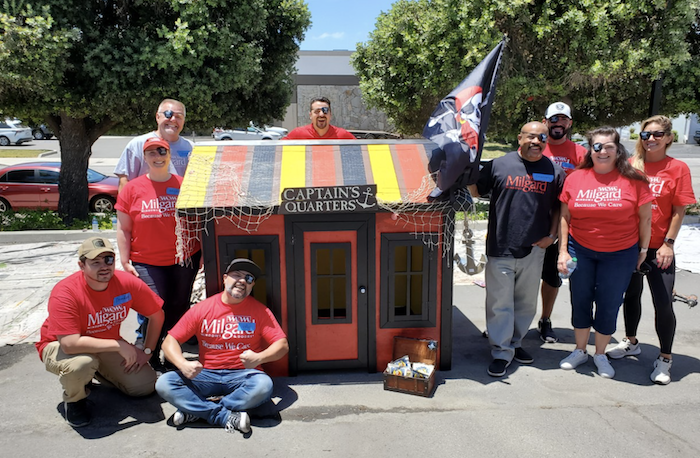 Each playhouse had a unique theme and color design. One was built to look like a pirate's lair, while another had a blue-and-green color scheme with a painting of scuba-diving children on the roof.
"The teams and their captains showed such great creativity," Ramsey said. "Coming up with the various designs and then watching them come to life was one of the highlights of the day."
Once the playhouses were complete, the MI Foundation volunteers loaded them onto trucks and took them to the families' homes.
"Our amazing delivery team was able to deliver the completed playhouses to the families directly so they would not have to reassemble them," Ramsey said. "It was just a perfect day from start to finish."
REHAU
For more than a century, Plumbers and Pipefitters Local Union 562 has served the plumbing and mechanical industry in eastern Missouri by offering a hands-on training program for upcoming trades professionals. Its Earth City, Mo. campus contains a state-of-the-art, three-story spec house where students can apply their plumbing, pipefitting and HVAC knowledge by installing fixtures within mock-up bathrooms and kitchens. Additionally, there is a special instruction room equipped with showers, sinks and toilets attached to framed walls so students can learn pipe installation and repair methods.
Paul Gallagher, a full-time instructor who has been with Local 562 for nearly 22 years, spoke with plumbing expert Jeff Strothmann and heating expert Bill Fey from REHAU manufacturers' representative Specified Systems about the facility's need for PEX fittings. After a demonstration of the company's EVERLOC+ compression-sleeve fitting system, Gallagher was eager to the get the fittings into his students' hands.
Strothmann and Fey collaborated with REHAU to organize a donation of EVERLOC+ compression-sleeve fittings and F1960 cold expansion fittings. "When we were contacted about the donations, we told those guys 'Of course,'" said REHAU's Midwest sales manager Jeff Halter. "REHAU is happy to provide students the fitting systems for PEX piping seen in the market. Whether it's our high-performance EVERLOC+ or the industry-standard F1960, we want to give people in the field an understanding of how to work with each system."
Apprentices will use REHAU's pipe and fittings throughout their five years of education at Local 562, whether they are learning the basics about pipe-to-fitting connections or installing plumbing system fixtures in the spec house. Journeymen continuing their education will also use the products in evening seminars.
The next generation of Local 562 apprentices will gain skills that reflect plumbing and mechanical industry best practices as they use PEX pipe and fittings, positioning students as valuable and adaptable plumbers and pipefitters. Gallagher concluded, "I hope the biggest takeaway students have when leaving the center is that they learned to be the best plumber they can be."
Whirlpool
While students have been back to in-person learning for about a year, the effects of the COVID-19 pandemic continue to impact school attendance rates nationwide. According to the National Center for Education Statistics, 72% U.S. of public schools reported an increase in chronic absenteeism among their students compared to the 2020-2021 school year. In its effort to lower absenteeism rates among elementary school students, the Care Counts laundry program by Whirlpool brand continues to provide washers and dryers to schools across the country with high percentages of absenteeism rates, removing one small but important barrier to attendance – access to clean clothes. As a result, 84% of participating high-risk elementary school students enrolled in the program were reported by teachers to feel connected to their school during the 2021-2022 academic year.
With the support of long-time collaborator, Teach for America, the Care Counts works with participating schools to find ways to ensure children have access to clean clothes throughout the school year. Over the years, the program has contributed to decreases in chronic absenteeism, and increases in attendance rates, grades and engagement levels among participating at-risk students.
"We're proud to continue growing the Care Counts laundry program, particularly at a time when we're seeing the detrimental impact the pandemic continues to have on the ability of our young students to attend school," said Nelly Martinez, senior brand manager for Whirlpool brand. "We're incredibly thankful for the school leaders and volunteers across the nation who are integral in keeping this program running, staying connected with students and their families, and providing more vulnerable people with access to clean clothes."
Now entering its eighth year, the Care Counts laundry program by Whirlpool brand has expanded its presence to five new states in the 2022-2023 school year: Wisconsin, Rhode Island, Virginia, Delaware and Hawaii. It will continue to work with schools that are participating in a second year of the program in five regions: Idaho, New Jersey, New Mexico, Oklahoma and South Carolina.
"The impact of the washer and dryer is truly incredible," said Krishna Barroso, principal at AVON Avenue School in Newark, N.J. "These two simple machines that most people take for granted provide essential access to clean clothes, which builds pride, confidence, and improves attendance for our students."