Ceasarstone Unveils Unique Installation at Fuori Salone
---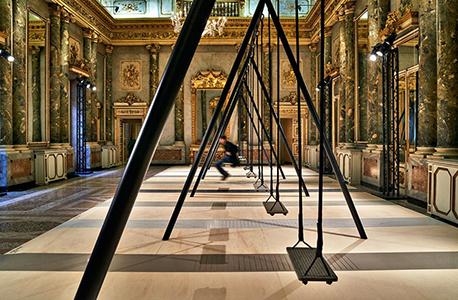 April 16, 2015
Caesarstone is set to unveil their latest installation at Milan's Fuori Salone 2015. Movements, an interactive installation by London-based designer Philippe Malouin, will be on view at the grand palace Palazzo Serbelloni, from the April 14-18.
Movements is a two part installation which examines the unexpected use of Caesarstone surface material and process-based design; experimenting with the inherent characteristics unique to the material and exploring the distinctive designs and textures in the Caesarstone collection. The Palazzo's grand hall will house an interactive installation made out of an eight-piece swing-set created from the new 2015 surface designs.
"For me the starting point was the exploration of the material, as we tend to start most projects. We focused on spending time in the workshop, except this was not an ordinary workshop, but a fully equipped solid surface transformation facility. Caesarstone is an extremely versatile material that is easy to predict and work with, and it offers a variety of colors and finishes," said designer Philippe Malouin. "I experimented with a series of techniques and applications ranging from the mundane to the more experimental."
The installation juxtaposes the splendor of Palazzo Serbelloni with a minimalist, monolithic language investigated by the designer. Typically associated with carefree, childish activity, the swings are here removed from their original playground surroundings and relocated to a historical environment and context. The swings bring an out-of-context element into play and invite visitors to interact with the material and the installation.
The adjacent room hosts a handmade group of planters that documents Philippe Malouin's process of experimentation with Caesarstone's surface material and technique. Modern and geometric in their design, the collection explores a very different range of techniques, such as traditional inlay and marquetry, as well as the material's versatility and the wide variety of colors in the Caesarstone collection, including the new 2015 color designs.