Chicago Faucets Resumes Quick-Ship Program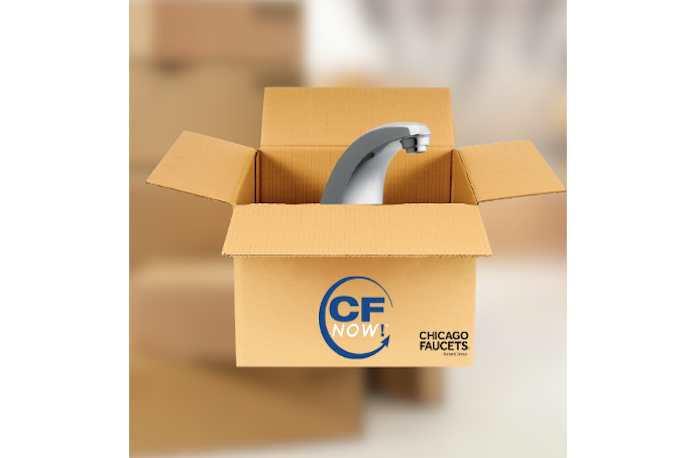 May 30, 2023
This article was originally published on May 30, 2023; it was updated on June 1, 2023.
Chicago Faucets, a leading provider of high-quality plumbing fittings, is excited to announce the return of CFNow!, its quick-ship program designed to streamline and expedite product availability and delivery throughout the United States. The renewal of the program includes durable faucets never before available in record time, like the EVR (electronic vandal-resistant) faucet series and electronic soap dispensers. It will assist building owners, schools, hoteliers and retail operators that need to keep running and maintain operations in a competitive environment.
Dominic Rice, president and CEO of The Chicago Faucet Company, told KBB, "Chicago Faucets is proud of our reputation for quality, durability and availability. We know that in the building industry, materials are often needed on short notice to maintain construction schedules. To support this need, we offer the CFNow! program which provides our customers with same-day or next-day delivery options on over 1,500 plumbing products, including our broad portfolio of advanced electronic touchless and manual faucets."
Many contractors, specifiers, plumbers, facility managers and maintenance personnel have also faced supply chain issues when it comes to plumbing fittings during the last few years. CFNow! allows them to receive their most sought-after products in record time, ensuring increased convenience and customer satisfaction. From manual to touchless faucets and parts, they can get the necessary plumbing products fast to continue business as normal.
Chicago Faucets recognizes that when it is time to install a commercial faucet in new construction or a replacement faucet in an existing facility, minutes and days count. Missing a deadline could impact the whole project and entire team. CFNow! simplifies the ordering and shipping process, offering remarkable delivery speeds for the most popular products including make-to-order products. Customers now have the option to choose CFNow! 24-Hour or CFNow! Same Day shipment for urgent needs, ensuring delivery to meet tight deadlines.All orders are shipped complete, eliminating any unnecessary delays or partial deliveries.
Fittings eligible for the CFNow! program include touchless hygienic faucets; faucets that include scald protection; WaterSense-rated or LEED-eligible faucets; vandal-resistant faucets; eye wash faucets; wall- and deck-mounted fittings for kitchens and restaurants; and assorted parts – mixing valves, adapters, aerators and more. Products can be found at the Chicago Faucets website or refer to the company's Faucets and Fittings Catalog or downloadable price list that identify qualifying CFNow! products.
For complete information on Chicago Faucets' CFNow! shipping terms and conditions, click here.
—By Leslie Clagett, KBB Managing Editor