Clarke Adds Culinary Innovation Center to Showroom Complex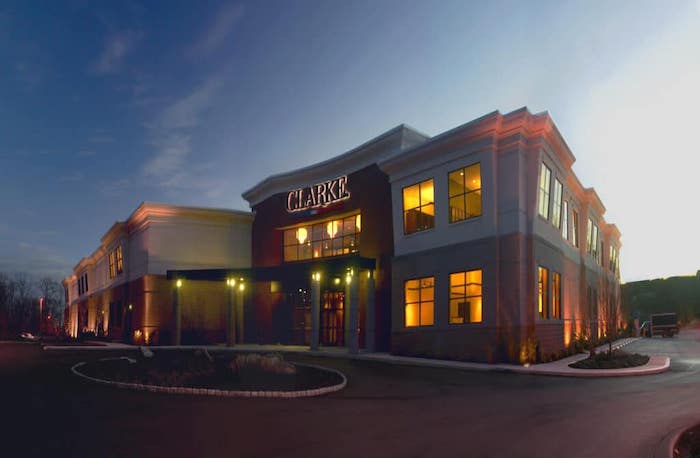 October 7, 2023
Clarke, New England's official Sub-Zero, Wolf and Cove showroom and test kitchen, is collaborating with Legal Sea Foods and its parent company PPX Hospitality Brands to bring a new Legal Sea Foods Innovation Center to 393 Fortune Blvd. in Milford, Mass. in early 2024. The 30,000-square-foot Innovation Center will be housed inside Clarke's 107,000-square-foot complex. This move is part of a transformation plan by Legal Sea Foods and PPX, a Boston-based hospitality group that includes the Smith & Wollensky Restaurant Group, The Strega Group and Legal Sea Foods Restaurant Group. The Innovation Center will replace Legal Sea Foods' outdated quality control center that no longer provides the needed efficiency, speed and quality assurance for the expanding global restaurant group and their introduction of e-commerce.
Clarke president Sean Clarke and Legal Sea Foods president and COO Matt King have worked together on various projects for the past decade and their professional friendship was the catalyst for locating the Innovation Center in Milford. "Matt and I have built a relationship that allows us to identify mutually beneficial initiatives," explains Clarke. "When local hospitals needed help during the early months of the Covid pandemic, which was when Matt was head of culinary for Smith & Wollensky, we worked together to cook and deliver food to hard-working employees and first responders. When PPX was looking for superior wine storage for their restaurants around the globe, Clarke was able to work with Sub-Zero to fulfill that need.
"We've also worked on recipe and content development," continued Clarke, "and Matt has cooked in our showrooms to support charities. It's a great relationship and when he brought up the need for a new Innovation Center, the wheels started turning. Whenever we can help each other, we are in full go mode. We're thrilled that we had room in our Milford building that suited their needs and look forward to seeing this exciting project come to fruition for both of us."
The facility will boast cutting-edge equipment aligned with Legal Sea Foods and PPX Hospitality's growth goals including a dry-aging butchery led by master butcher Luke Sullivan, and a commissary for ready-to-eat and chilled processing. It will also incorporate storage spaces, fresh-freezing capabilities and a quality assurance laboratory. The vision is to equip the Innovation Center with the latest technology and resources to drive best practices as Legal Sea Foods and PPX continue to grow.
The environment at 393 Fortune Blvd. is ripe for those looking to innovate, which is exactly what Clarke CEO Tom Clarke did when he purchased the Milford property more than 20 years ago and re-engineered what was once a Dunkin' Donuts warehouse into an award-winning appliance showroom. It is now home to full-scale designer kitchens showcasing every model of Sub-Zero, Wolf and Cove appliances and a test kitchen with seating for guests who attend the company's product demonstrations. In addition, Clarke has an amphitheater with a fully equipped video production kitchen (used by national celebrity chefs for various television projects), a hydroponic farm housed in a shipping container that provides fresh produce and herbs year-round and an array of solar panels on the roof that have produced net zero electricity for the entire building for more than a decade.
Clarke's penchant for experiential innovation has led them to create New England Living, an omni-channel that includes an Emmy Award-winning television show airing on WBZ/CBS Boston on Sundays at 11:30AM, a companion magazine and online stories at newenglandliving.tv.
"Having Legal Sea Foods and PPX join us here in Milford is the icing on the cake," said Sean Clarke. "We love the culinary synergy and look forward to where this will take our companies."
Photo credit: Clarke