CNC Cabinetry Expands Arlington, Texas, Facility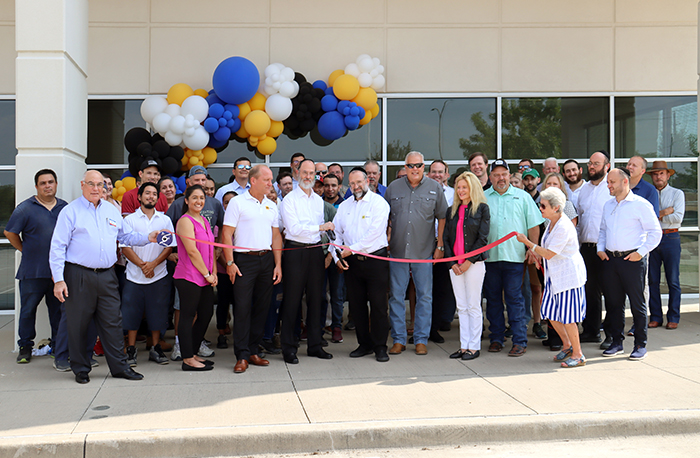 September 5, 2023
CNC Cabinetry, a respected name in cabinetry solutions, celebrated the expansion of its Arlington, Texas, facility with an open house and ribbon cutting event. The event brought together the local community, valued customers, Mayor Jim Ross of Arlington and members of the local Chamber of Commerce. 
The event kicked off with networking in the newly designed local showroom, providing guests with the opportunity to explore the design possibilities and features of the cabinetry displays. Attendees mingled and enjoyed the chance to witness firsthand the quality and innovation that CNC Cabinetry stands for. 
Tours of the expanded warehouse and manufacturing facility, now spanning more than 170,000 square feet, followed. Visitors gained insights into the intricate processes behind the creation of CNC Cabinetry's products. The day was punctuated with local Texas barbecue, adding a Texan flavor to the festivities. 
The highlight of the event was the ribbon cutting ceremony, symbolizing the official inauguration of the expanded facility. Mayor Ross, joined by local small business owners and the entire Texas CNC team, commended CNC Cabinetry's commitment to Arlington's business landscape and the importance of strong business relationships. 
"It's a pleasure to celebrate this milestone with CNC Cabinetry," said Mayor Ross. "Their dedication to craftsmanship and community truly reflects the spirit of Arlington." 
Robert Hunter, chief operating officer, introduced CNC Cabinetry's partners and owners, Nathan Indig and Hershy Fischman, who had flown in from New Jersey for the event. They expressed their appreciation for the local team's efforts and the warm reception from the Arlington community. 
The event marked a significant step for the cabinetry brand, demonstrating its commitment to excellence and community engagement.