Conestoga Wood Specialties Completes Finishing Facility Expansion
---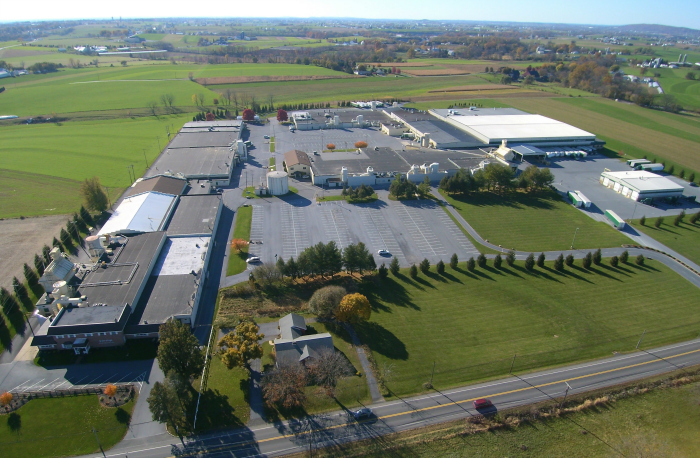 December 27, 2016
With consistent market growth and the considerable demand for painted kitchens continuing on the rise, Conestoga Wood Specialties made the move to consolidate and expand its finishing operation to significantly grow and streamline the company's capabilities.
"Demand for paint continues to rise market wide," said Conestoga CEO Anthony Hahn. "We've been doing the math all along, knowing we had to grow our capacity to stay ahead of the curve. This was clearly a must-do expansion/consolidation of our finishing operation!"
For the past five years, Conestoga's painted finish volume has averaged more than 20 percent year over year growth – more than doubling their daily piece volume. In 2013, the company began examining future needs with a cross-functional team to determine what flat line finishing equipment would be needed and the facility capacity it would require to do the job right.
"We set an aggressive December 2015 timeframe to have the construction completed and the new finishing operation up and running," Hahn explained.
Conestoga determined that the company's capacity would significantly increase by incorporating the best new equipment and process improvements to handle it all – priming, painting and top-coating. The result would be a manufacturing process with the most future flexibility, producing the same or better quality. After evaluating the offerings of a number of top flat line finishing equipment manufacturers, Conestoga settled on Stiles and Venjakob. The new facility includes:
a Venjakob Automatic Flat Line Finishing System, which applies and dries coatings on various products with optimum quality and efficiency compared to older equipment;
a freestanding spray booth for use when manual application is necessary, which includes a downdraft feature that forces dirt and fumes to the floor and away from the operator; 

 

a freestanding infrared oven, which utilizes state-of-the-art programmable heating recipes and dries product coated in the off-line spray booth and
sanding rooms with downdraft tables that include self-contained filtration systems to remove particulate dust from the hand sanding area and return clean air to the room.
"This equipment is the latest and greatest technology available on the market today," said Conestoga Finishing Technical Manager Jason Earhart. "The consolidation of processes was exactly the right way to go. The improved repeatability, shorter cycle times, and significantly larger workspace have provided us with the long-term growth solution we were shooting for."
In 2014, Conestoga began the process of interviewing and obtaining proposals from design-build general contractors, with building cost being only one relatively small consideration in their selection criteria. Instead, the company's evaluation matrix scored candidates based upon quality of work, on-time completion history, subcontractor selection, safety record, references and other key factors.
"This expansion has significantly increased our finishing capabilities, enabling Conestoga to meet our customers' demands for the highest quality finishes and on-time delivery they've come to expect for many years to come," added Hahn.