Coohom Announces 3D Kitchen & Bath Design Tool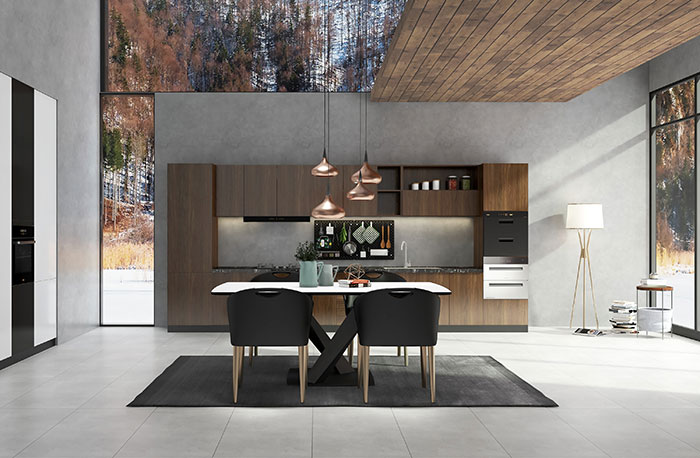 June 16, 2022
The 3D interior design platform Coohom has launched a Kitchen & Bath tool for interior designers. Simple yet powerful, it takes the headache out of complex designs and features thousands of parametric models of cabinets, appliances, accessories, materials and styles, and more. The feature even has an AI decorator at your service.
"Due to the pandemic, people are starting to realize how important that the great 3D Visualization could affect consumer awareness," said Cook Liao, commercial vice president of Coohom. "During the lockdown, people can only shop online, which accelerates e-commerce growth wildly, and kitchens and baths have a more complicated design than a living room, bedroom, and such. Coohom is well aware of that, hence, we developed this powerful tool to help designers and manufacturers present their best ideas and products with lower cost and higher efficiency. Providing the all-in-one and end-to-end solutions has always been Coohom's top goal, with our Kitchen & Bath feature, you'll get to experience the best possible 3D interior design process." 
To follow the persistence of Coohom's ultimate 3D design tools, the Kitchen & Bath feature is easy to apply and utterly cloud-based. You can start designing anywhere anytime as the internet is available, and the world-class, fast rendering up to 16K resolution is a superb functionality for users' benefit. It allows you to design in minutes and get a rendering in seconds.
Piecing the photo-realistic panoramas together to generate a full 720 virtual walk-through, the immersive AR-like experience will give you and your clients the 'wow' effect instantly. Another great feature is the auto-generated construction drawing, from 3D design to 2D drawings with no barriers at all, Coohom also supports many CAM programs, like HomagIX / WoodCAD|CAM, TopSolid, Cabinet Vision and more.
Kitchen & Bath of Coohom Features
● Complete floor planning with a smart AI decorator.
● Lightning-speed photorealistic rendering up to 16K resolution.
● Countless parametric models prepared (cabinets, wardrobes, etc.)
● With immersive AR ability to serve a full 720 virtual tour
● Auto-generate construction drawings, can edit online and export to DWG/JPG/PDF format
● Industry 4.0 interface, directly send design data to CAM platforms.
● Increase efficiency by eliminating manual disassembly, back-and-forth communication and off-line data exchanges.