Coohom Introduces AIGC Lab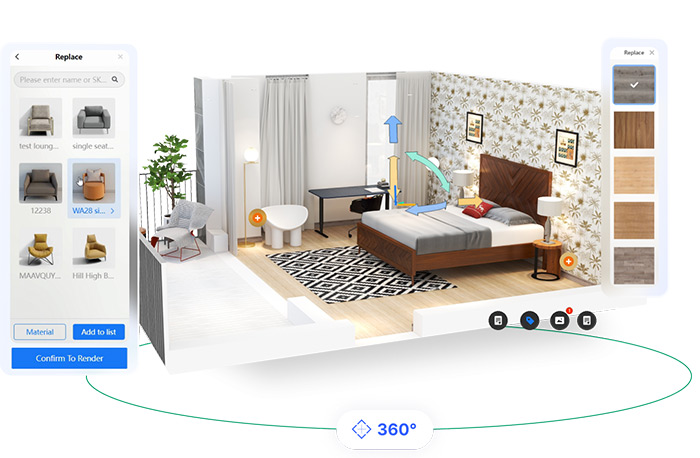 March 13, 2023
Coohom has established the AIGC Lab to further deliver an outstanding smart 3D spatial solution, allowing users to easily create a fully furnished room scene. Coohom's AIGC Solution uses an algorithm similar to ChatGPT to simulate and build a 3D interior floor plan and decorations according what a user types and describes. AIGC (AI-generated content) is widely regarded as the next stage of content generation, after PGC (professionally generated content) and UGC (user-generated content).
"Coohom's solutions cover home décor, furniture retail, lighting, rugs, textiles, hospitality, kitchen & bath, home improvement, interior & exterior design, e-commerce and digital marketing," said Cook Liao, head of Coohom. "In order to fulfill the needs from these markets, artificial intelligence has become more important than ever. Since the AI drawing feature took off last year, industries such as architecture and design have gradually started to experiment with AI drawing capabilities as well. 
"Plenty of designers are already using image-generating models, such as Stable Diffusion and Midjourney, to enhance the details of architectural designs. Furthermore, Coohom's AIGC Lab is to achieve the goal as Model-as-a-Service (MaaS), which provides much stronger Al capabilities to freely and flexibly create any spaces, either interior room scene or exterior garden, fancy restaurant or luxury villa."
All these applications and integrations sound quite enchanting, and Coohom never forgets its position as a leading 3D rendering & product visualization software to truly conduct its mission for "What You See Is What You Get" by the industrial grade cloud-based CAD platform with application scenarios for large, complex scenes in manufacturing and construction, such as home, architecture and commercial space. 
For 3D scenes, developing AIGC in these complex scenarios will bring more additional values for both buyers and sellers. Now the AI algorithm has become essential, ranging from the automatic import of floor plan, furniture models and construction drawings to the one-click generation of short video in digital marketing or the virtual showroom for online e-commerce.
AIGC Solution of Coohom features:

Seamless integration with any CAD platforms

Human-machine collaboration with powerful Al algorithms

Interactive, intuitive, integrated 3D visualization solution

Seamless data synchronization with CRM/ERP systems

Open API integration serves dedicatedly to your brand

Social media marketing execution and sharing supported

New future scenario established – Model as a Service