Coohom Releases Inspiration Spaces Feature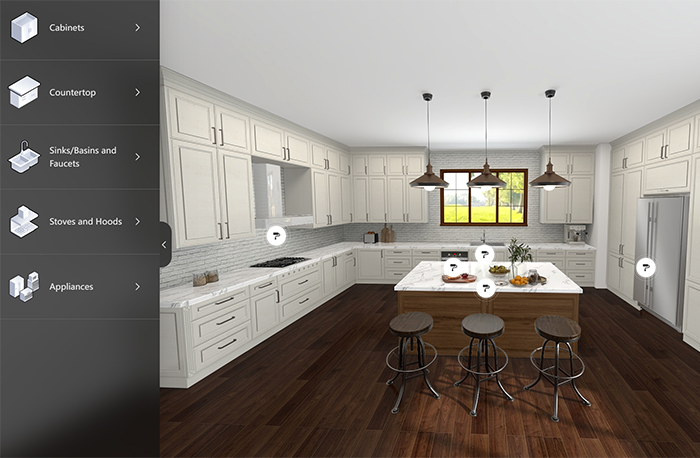 October 19, 2022
Coohom's new Inspiration Spaces feature optimizes sales performance and product conversion for kitchen & bath retailers and home decor brands. It's a dedicated 3D design feature to engage your customers to the fullest, which supports model switching, style swapping, material exchanging and more, so the customers could easily review the different products with different styles in the personalized kitchen floor plan design. And it also could function as a lead-generation tool — after reviewing the products and the styles, the customers would fill out the form, which is customized, with their basic information, and the 3D rendering of the project will be sent to the designated email address for future follow-ups or social sharing.
"There are several amazing functionalities in Coohom's Inspiration Spaces feature, the most distinctive selling point is, it enables customers to become designers," said Cook Liao, head of Coohom. "Since the customers could switch the custom product models in the kitchen floor plan effortlessly to see how they like it, and it doesn't require any professionalism whatsoever. The goal is to engage them and to let them understand your brand, your products by their individual creativity and imagination. 
To truly realize 'what you see is what you get,' Coohom is striving to deliver the best possible interactive 3D visualization to our clients, both for B2B and B2C solutions From its 3D Viewer & AR, Virtual Showroom and Photo & Video Studio, to the new Inspiration Spaces.
Coohom's Inspiration Spaces is tailor-made for each company's B2C strategies. It supports online website integration, making it possible to design a personalized kitchen to present your brand and upload your custom product models, styles and materials, as well as designate the switching anchors onto the specific models that you wish to show or promote to your customers.

With a full 360-degree immersive panorama to exhibit every detail of the kitchen floor plan, the Inspiration Spaces improves design efficiency by 200% and lead-generation performance by 25%. It's easy to apply, powerful to design and helps to grow sales.