Cosentino Celebrates 25th Anniversary for Silestone
---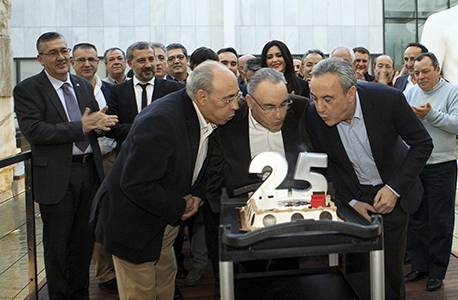 March 9, 2015
This year Silestone celebrates 25 years of color and innovation. 


To commemorate this anniversary, the Cosentino Group held an event at its Cantoria headquarters on February 26th, during which Cosentino's founders, the executive board and a group of employees celebrated 25 years of the Silestone's history and special recognition was awarded to approximately 60 people who have been involved with the brand since its launch. 


The kickoff celebration is the first in a series of commemorative initiatives that will take place throughout 2015, including an expanded product warranty, new product introductions, designer collaborations and strategic partnerships and a commemorative logo.
In recognition of the anniversary, Silestone has expanded its transferrable, limited warranty to guarantee coverage of Silestone surfaces and Integrity sinks for up to 25 years from the original date of installation, regardless of original owner. 

The new warranty program will cover Silestone surfaces purchased from an authorized Silestone installer or dealer and that have been installed in a single-family residence.
This industry leading warranty extension goes beyond typical "lifetime warranties" offered in the market, which are usually non-transferable and limited to the original owner of the surface.