Danver Stainless Outdoor Kitchens Partners With 2020
---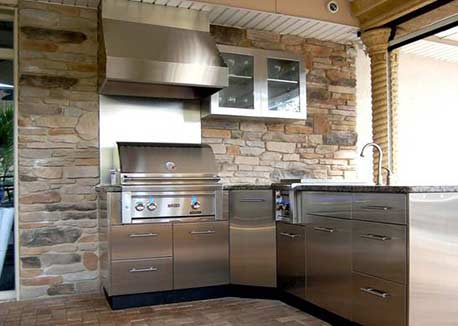 February 16, 2015
Danver Stainless Outdoor Kitchens recently announced a new partnership with 2020, a space planning and furniture manufacturing software. The partnership allows design professionals to research and then incorporate Danver Stainless Outdoor Kitchens and Brown Jordan Outdoor Kitchens' products in their plans and renderings using 2020's room and space planning software, 2020 Design.
The 2020 Design online catalog is set to feature a wide selection of Danver's stainless steel outdoor kitchen cabinetry, including base cabinets, grill cabinets, appliance and bar cabinets and barbecue island inserts. Brown Jordan Outdoor Kitchens' products will also be included in the catalog. Once a design professional and their client select their preferred cabinet styles and appliances, 2020 Design allows them to visualize their space with 360-degree, panoramic views.
"We are excited about this partnership with 2020 as it enables designers to create their ideal outdoor living space with Danver products," said Mitch Slater, president of Danver Stainless Outdoor Kitchens. "Beyond that, the technology provides an efficient process for designers and manufacturers to facilitate ordering, invoicing, delivery and more."
"Danver's unique line of outdoor kitchen products opens up expansive opportunities for our customers to begin designing for yet another living space for their clients," said Paul Vokaty, general manager, professional line of business for 2020.