Delta Faucet Company Reveals 2015 Trend Forecast
---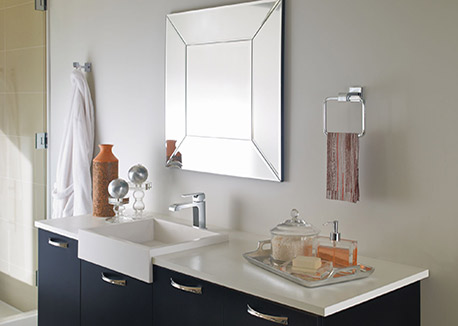 December 29, 2014
Delta Faucet Company's industrial design team explores natural aesthetics, bold motifs and streamlined style in its 2015 interior design trendspotting report.
"The design team at Delta Faucet Company is constantly identifying trends and inspiration across design, travel, fashion and more, whether a new finish or the resurgence of a vintage style," said Judd Lord, Delta Faucet Company senior director of industrial design. "Our products undergo arduous research, evaluation and testing and they need to be designed to last for years. To innovate our design, we must be vigilant about finding the ways to inspire, motivate and excite our consumers."
The following trends will fuel the design industry in 2015, according to the Delta Faucet Company design team:
Natural Aesthetics: Organic shapes, woods washed with color, powdery surfaces and uneven edges – the natural, organic trend continues to gain favor among home design enthusiasts. Look for colors found in nature that stand out, such as blurred bronze, worn copper or oxidized layers. This style allows homeowners to get creative – whether transforming a stained piece of wood into a kitchen counter or incorporating staghorn ferns into a wall mount.


Boldly Feminine: This trend has an outgoing, courageous disposition. Feminine curves paired with boisterous colors, subtle creams next to loud lace, this movement is an exercise in creativity and imagination. Pretty and practical, bold and bright, the style brings cheerful comfort to the home through robust, oversized floral patterns.


Smooth Geometry: Simplistic design paired with angled blocking results in a balanced and clean environment. Textured and tempered metals, such as a clean copper, can be paired with marble to add a feeling of luxury and warmth. Homeowners eager to increase bath space may consider wall mounted units with steel frames for a simple, structured look.