DREMEX Joins NKBA Global Connect Program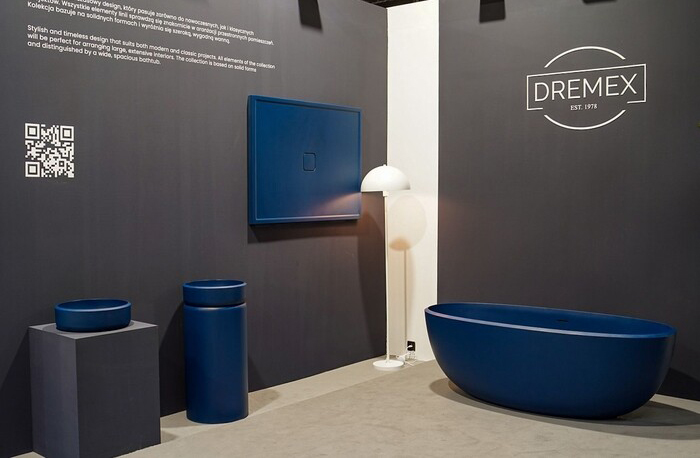 December 29, 2022
The National Kitchen & Bath Association (NKBA), representing nearly 50,000 North American kitchen and bath industry professionals and the owners of the Kitchen and Bath Industry Show (KBIS), announces its newest NKBA Global Connect Program member — DREMEX, a leading manufacturer of synthetic marble washbasins.
Family-owned and operated, The DREMEX Capital Group has 45 years of experience and history in the manufacturing industry. Over time, the company has evolved, focusing on the production of marble and synthetic granite. Dynamic development and investments in the most modern production lines allowed us to become one of the largest producers of synthetic marble washbasins in Europe.
Headquartered in Poland, DREMEX designs and maintains washbasins, bathtubs, shower trays and sinks using the latest technologies. DREMEX provides the highest quality, modern forms and shapes thanks to the use of carefully selected materials and cooperation with the best designers.
DREMEX creates product lines thinking about their most demanding customers, for whom aesthetics, functionality and style matter the most. 
"Our team is fully involved at every stage of cooperation, as we provide substantial support, professionally made projects and full logistics service," stated a Dremex spokesperson.
DREMEX is proud to be one of the market leaders in this industry; its reputation has been built on unparalleled quality, innovative designs and outstanding customer service. The brand's contemporary yet timeless designs can be found in public utility buildings, hotels, apartment buildings, dormitories, retirement homes and more. The company has also introduced an ultra-light material mixture that is being used for passenger cruise ships.
Currently only producing in Poland, DREMEX is looking to expand partnerships in North America and globally. 
"We are currently expanding our production plant in Poland so that we can deliver the highest quality products to customers all over the world, including the USA," stated the spokesperson. "We are convinced that both the quality of our products and their modern design will be positively received by consumers from the American market."
The NKBA Global Connect Subscription program offers a robust package of resources and connections to help international brands enter the North American kitchen and bath marketplace. Access to industry experts, proprietary NKBA market data, North American design and construction insights, VIP events and networking programs gives NKBA Global Connect Subscribers a unique view into the market before they commit to launching. 
"We are excited to welcome DREMEX into our NKBA Global Connect program," said Suzie Williford, executive vice president and chief strategy officer of NKBA. "We continue to build an outstanding program designed to help marketers navigate the vast North American kitchen and bath market, and it's gratifying to see it grow."