Du Verre Hardware and Top Knobs Announce Agreement to Join Forces
---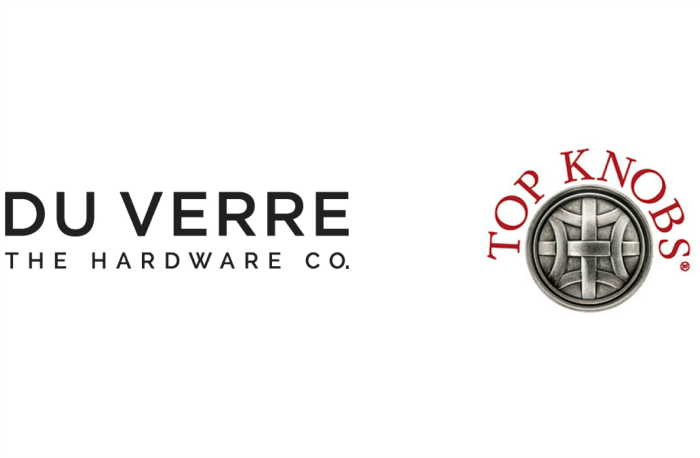 September 6, 2017
Du Verre Hardware and Top Knobs, jointly announce the acquisition by Top Knobs of the Du Verre Hardware brand.
Together, Top Knobs, Du Verre Hardware, Atlas Homewares, Vesta Fine Hardware, and sister company Hardware Resources' brands Jeffrey Alexander and Elements, represent a significant product selection in the industry for cabinet hardware.
As an award-winning company, Du Verre Hardware has a strong history of innovative designs and progressive manufacturing techniques. Each piece of the brand's hardware is crafted of post consumer, eco-friendly recycled aluminum fully compatible with LEED objectives.
"This acquisition is a significant accomplishment and marks the beginning of a new era, filled with opportunities to add to our original high design collections," said Lubin Founder, CEO and creative director of Du Verre Hardware. "We are proud to celebrate the joining of two iconic companies while continuing to grow the Du Verre brand and help create beautiful, sustainable environments."
Under the creative direction of founding partners Lubin and Gavin McLean, the Du Verre brand has gained recognition throughout the design world for original hardware designs. The team has sought out the talents of an outstanding roster of award-winning designers, craftspeople and artists to create one-of-a-kind collections. Lubin has guided the creative direction of the hardware company since its inception and has created some of the most intriguing Du Verre designs to date.
"Gina and Gavin founded Du Verre Hardware 18 years ago, and through their leadership and sense of style created a beautiful green friendly brand that I've admired for many years," said Warren Ramsland, president of Top Knobs. "We highly value Gina in her new role as we develop future innovative designs utilizing her relationships within the design community."