Duravit Builds Climate-Neutral Ceramic Plant in Canada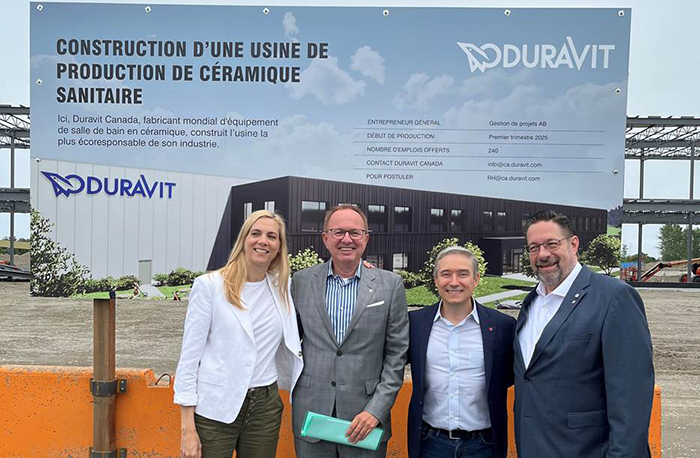 July 31, 2023
Duravit AG is taking a quantum leap towards a sustainable future: the world's first climate-neutral ceramic production facility is being built at the Matane site in the Canadian province of Québec. The new Canadian site will create 240 new jobs, with production scheduled to start in early 2025. Ceramic sanitaryware products, such as WCs and washbasins, will be manufactured in the future exclusively using renewable energies. For the firing process, Duravit will use the world's first electric roller kiln powered by electricity from hydropower. The use of this innovative technology will save around 11,000 tons of CO2 per year compared to a conventional ceramic factory, making Duravit a pioneer in the industry.
"We are very proud to act as forerunners in designing a sustainable sanitary industry and to actively face the challenges posed by climate change," said Stephan Tahy, CEO of Duravit. "At Duravit, we are thereby establishing new standards to implement innovative solutions in a sector characterized by high energy consumption."
Broad political support spurs implementation
The plant, which will enter into service in 2025, will be the first production site for Duravit AG in North America. The business aims to supply the North American market, while eliminating its greenhouse gas emissions. Thanks to hydroelectricity and the proximity of inputs, the Matane plant will become the first carbon-neutral sanitary ceramic products plant in the world.
​​"I am very proud and pleased that we are welcoming Duravit to our city," said Eddy Métivier, mayor of Matane. "Today, Matane stands out as a strong city, an economic pillar and a hub to attract businesses from around the world. I salute the exceptional work done by all our partners in this project and, of course, the Duravit team, with whom we have been collaborating so well since the start. Businesses are major allies in developing our city, and the arrival of a multinational such as Duravit can only be a source of delight, confirming Matane's economic vitality now and in the future." 
To implement this project, the Government of Canada is providing the business with a repayable contribution of $19 million (EUR 13 million) under CED's Regional Economic Growth through Innovation (REGI) program. 
"The Government of Canada's investment in this project will not only bring a world-renowned business to Quebec, but also a business that has distinguished itself by its ability to innovate for over 200 years," said Pascale St-Onge, minister of sport and minister responsible for Canada Economic Development for Quebec Regions. "By focusing on Quebec and its hydroelectricity as a source of clean, renewable energy, Duravit Canada is demonstrating that it is possible for growth and the fight against climate change to go hand in hand. By supporting Duravit Canada, our government is helping a business make the jump into the technologies of the future and make winning choices for our planet."
For its part, the Government of Quebec is granting a loan of $11 million (EUR 7.5 million) through the ESSOR program, managed by Investissement Québec as its representative.
"Our team is very happy to see this important project happen, establishing a key international player in the Bas-Saint-Laurent region," Hubert Bolduc, president of Investissement Québec International. "We have been working with Duravit for several years now to showcase Quebec and the beautiful Matane region. This is the start of a business relationship that we are confident will generate major economic spin-offs for all of Quebec."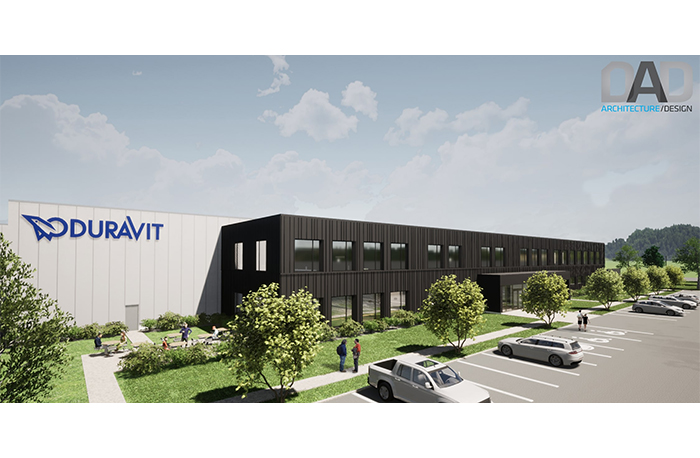 Innovative response to climate change
In designing and preparing the new climate-neutral ceramic production site, Duravit worked closely with the Italian manufacturer of machinery and plants for ceramics SACMI as a strategic partner. Important substantial synergies have been achieved through the joint development work. Previously, the technology of an electric kiln was unusable for the sanitary ceramics sector. Thanks to close cooperation with the long-standing partner SACMI, a new type of kiln for these requirements has been developed.
Project proves feasibility of CO2-neutral production
The use of renewable energies like hydropower will reduce CO2 emissions in production to zero. Duravit is the first ceramics manufacturer to rely on an electric firing process together with market leader SACMI, enabling it to produce in a completely climate-neutral manner. The manufacturer shows that under the right conditions, it is already possible today to produce in a CO2-neutral way, even for energy-intensive industries.

In addition to climate-neutral ceramic production at the plant, logistics are also designed to be sustainable. All raw materials are sourced directly on site in Canada, as well as from the U.S., which means short transport distances. This additionally reduces emissions and ensures an environmentally friendly supply chain. The ceramic parts produced in Canada are mainly planned for the North American market and thus play a decisive role in the company's growth strategy.
"This world-class facility sets a new global standard for sustainable manufacturing and underscores Duravit's commitment to innovation at all scales," said Bob Downie, president & CEO of Duravit USA Inc. "Once operating, the new facility will have a significant impact on the North American Market supporting strategic sales and brand initiatives as well as optimizing distribution and service for customers across the U.S. and Canada."