Dwell on Design Breaks Attendance Records and Announces Global Expansion
---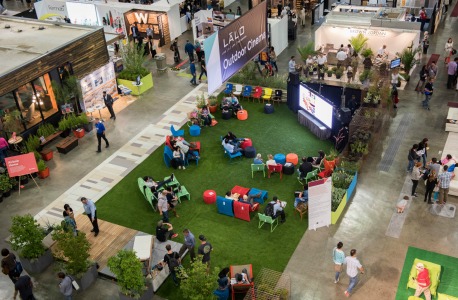 June 2, 2015
Dwell on Design returned to the Los Angeles Convention Center May 29-31, 2015 for its 10th annual show. This innovative three-day event welcomed attendees, celebrities and participants from around the world for a celebration and exploration of modern design through on-stage content, inspiring exhibitions, Porsche ride and drives, home tours and Dwell Design Week events. Dwell on Design offered continuous content from more than 250 leaders in design, 2,000 modern furnishings and products from 400 exhibitors, as well as continuing education opportunities across nearly every design discipline. 
Attendance at Dwell on Design increased to a record 32,428 participants during the weekend. Dwell on Design was the culmination of Dwell Design Week, which took place May 25-31and included a series of events and home tours around Los Angeles. Dwell on Design is expected to grow exponentially with its recent sale to Informa Exhibitions U.S., Construction and Real Estate. This agreement, announced during the opening day celebration, formalizes a 15-year commitment that aims to expand the international presence and influence of Dwell on Design, elevating the experiential offerings and status of this show for attendees, exhibitors and sponsors on a global platform.
"It has long been the plan for Dwell on Design to include international arms of what is truly America's largest design event," said Dwell President and CEO Michela O'Connor Abrams. "Paramount to achieving that level of growth was finding the right partner. I am confident that we have done just that with Informa Exhibitions U.S., Construction and Real Estate, and that Rick McConnell and his team will make Dwell on Design the largest must-see design event worldwide."
Dutch Designer Marcel Wanders kicked off the 10thAnnual Dwell on Design to a standing-room only audience by providing an inspiring keynote about the importance of open-mindedness and the responsibility of bringing humanity into the design industry's work with a goal to "create an environment of love" and inspire a life filled with passion. Additional highlights included the Re-Imagination Pavilion featuring two kitchens designed by LG Studio Artistic Advisor Nate Berkus, the announcement of the 5th Annual Dwell on Design Awards and the 326,000-sq.-ft. show floor with three stages.