DXV by American Standard Reveals New Designer Window Display
---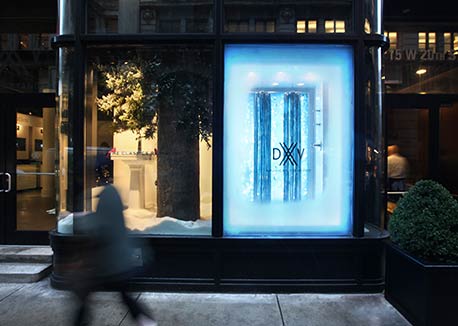 January 7, 2015
American Standard continued its successful designer collaboration with a DXV showroom window created by Barbara Kurgan, principal of BKOK.
Barbara Kurgan has designed interiors, products and furniture collections for such blue-chip clients as Aerin Lauder and Martha Stewart. Barbara describes her window exhibit as a celebration of water, the essential compound, in all its forms, explaining that water is the only substance found naturally on earth as a solid, liquid or gas.
This showcase, located at 15 West 20th Street in New York City, features the DXV by American Standard Randall vessel faucet mounted on a Fitzgerald pedestal lavatory in a wintery display of evergreen branches and snow. The adjoining window portrays a shimmery shower setting highlighting DXV Traditional rain showerheads with complementary Randall cross-handle shower trim in an array of swirling mist and steam.
This display is in the DXV showroom window through the end of January 2015.