Elmwood Celebrates 50 Years of Custom Cabinet Artistry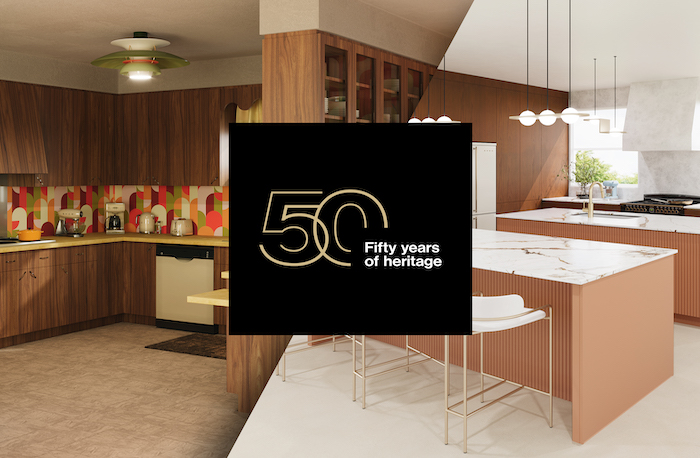 September 16, 2023
Elmwood, North America's high-end and iconic custom cabinetry brand, is delighted to announce its 50th anniversary, celebrating a five-decade legacy of excellence, authenticity and innovation.
For half a century, Elmwood has stood as a beacon of quality and refinement in the cabinetry industry. What started as a humble endeavour, Elmwood has grown into one of North America's most prestigious high-end custom cabinet manufacturers, thanks to its widespread network of retailers and relentless capacity for innovation.
The 50th-year milestone not only showcases Elmwood's lasting legacy but also underscores its dynamic evolution. Now part of Cabico&co, Elmwood continues to be a pioneer in the premium cabinetry segment.
The Elmwood Evolution Over Five Decades
At a time when modular cabinets were emerging, Elmwood was founded in 1973 by Hans Neufeld and Henry Janzen. Their vision: to create cabinetry that embodied the highest levels of craftsmanship.
With a focus on creating frame cabinets and Elmwood veneer doors featuring intricate routered designs, the two founders broke the mold. Their superior innovation and quality quickly earned Elmwood a reputation as a preferred supplier for new homes in the region.
From the 1980s onward, Elmwood experienced explosive growth, expanding their markets across Canada and both the east and west coasts of the United States. In 2016, Cabico Group acquired Elmwood to complement its current offering. With the acquisition, Cabico&co became the largest privately held custom cabinetry company in Canada and the third largest in North America.
Alain Ouzilleau, CEO at Cabico&co, is immensely proud of where Elmwood is today. "Cabico&co is honored to have played a role in Elmwood's remarkable evolution. We are committed to upholding and furthering Elmwood's legacy of quality and innovation for years to come."
Cosimo Galletti, general manager, reflecting on Elmwood's heritage, added, "Elmwood's foundation is deeply rooted in a tradition of excellence. Our brand is synonymous with unparalleled elegance and prestige, and customers opt for our cabinetry as it resonates with sophistication and makes a profound statement within their homes."
Celebrations to Begin This Fall
This 50th anniversary will be marked by a number of activities. These include the Five Looks, Five Decades project, in which the Elmwood team has identified five of its star products that have marked the evolution of kitchen design. Transposed into hyper-realistic 3D renderings of period kitchens, this project will highlight the evolution of kitchen design (finishes, configuration, styling). The Elmwood team has also created a sixth look for the future, offering a glimpse of upcoming trends.
"Elmwood's horizons are indeed bright," said Mr. Ouzilleau. "We pursue our design ethos that resonates with timeless elegance yet speaks the language of modern living. We're not just creating cabinets; we're crafting experiences for our customers' unique lifestyles."