Expressions Home Gallery Opens Showroom in Dallas, Launches New Brand for Showrooms
---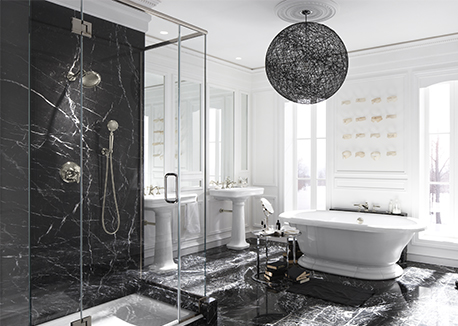 January 12, 2015
Morsco, Inc., the parent company of Morrison Supply Company, Farnsworth Wholesale, Wholesale Specialties and Express Pipe & Supply, launched a new premier showroom brand, Expressions Home Gallery, to service the showroom segment of the business. The brand is a go-to destination for builders, homeowners, remodelers, contractors and interior decorators. Prior to its introduction, each showroom operated under the local brand in their respective markets.
According to Ronald Bullington, director of showrooms for Morsco, the new showroom in the Dallas Design District not only inspires but is also a one-stop destination that provides customers with products to meet their luxury home needs. The showroom will offer kitchen and bath products, lighting fixtures, hardware and appliances. Morrison Supply Company's current Fort Worth location will also be rebranded as Expressions Home Gallery.
"The focus of the showroom is on the customer experience," said Bullington, "how the showroom makes them feel the moment they step into the front doors until they find that item that completes their dream home. Our goal is to provide exceptional customer service in an environment that does not intimidate but provides solutions."
The showroom strives to offer a new customer-centric experience with a focus on promoting luxury and lifestyle. With updated floor plans and layouts, each showroom is for easy navigation for anyone, from the homeowner looking to make a small renovation, to seasoned contractors and builders. 
"We will provide a similar feel as well as look in all of our new showrooms moving forward, with the addition of elements that highlight the local market flare," said Bullington.
With the opening of the showroom in Dallas and the recent acquisition of Kiva Kitchen & Bath, the new brand will have 12 independent locations:
• Dallas
• Fort Worth, Texas
• Houston
• San Antonio
• Austin, Texas
• Conroe, Texas
• Gilbert, Ariz.
• Irvine, Calif.
• San Diego
• Costa Mesa, Calif.
• Chatsworth, Calif.
• Colton, Calif.
Expressions Home Gallery will be pursing an aggressive growth plan, with numerous new locations planned throughout the Southwest. The next new showroom will open this year in Southlake, Texas.