Fantini USA Partners with Lissoni Inc. on Newly Designed Headquarters
---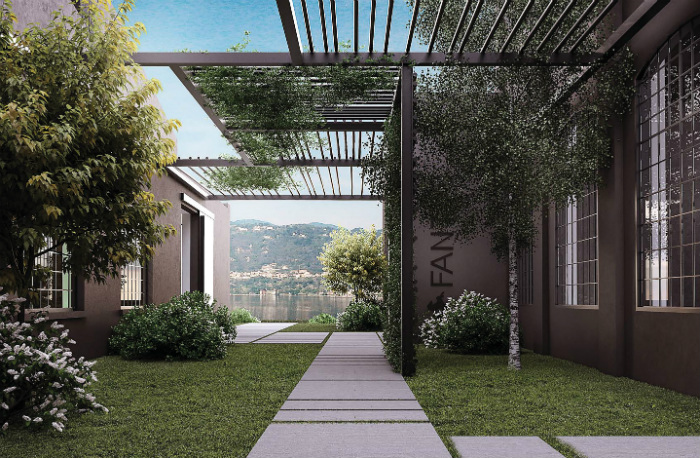 October 4, 2017
Based on Lake Orta in Pella, Italy, Fantini celebrates 70 years in 2017. CEO Daniela Fantini was inspired by the beautiful and serene location to redesign the company's factory and offices and create an adjacent hotel. Designed by Lissoni Architecture and featuring the unmistakable signature style of Piero Lissoni, the new complex interprets Fantini's vision with sensitivity to the lakeside location.
A place of harmony, Casa Fantini/Lake Time consists of two lakefront buildings, one old and the other new. Landscape, architecture and light blend in a perfect equilibrium, and time seems frozen as if by magic.
"Casa Fantini is a hospitality project that expresses the same passion for design and cozy atmosphere, features that are embedded in the Fantini company," said Fantini. "The common thread is water, always present in all our activities and that drives our everyday work. Casa Fantini is born from my love for the spirit of the place, for what is genuine and handcrafted and that represents the culture of Lake Orta, where I find my roots. A place where to live an emotional experience in Lake Time spirit at a slow pace and surrounded by the mystic aura and silence inspired by the lake."
The project Casa Fantini/Lake Time is designed by Lissoni Architecture Milan. Wood and stone are the natural materials used to blend in with the surroundings and the spirit of the place in full harmony.
"Soft and airy environments where it is pleasant to hang about, listen to music, read, have a chat, meditate, get lost in enjoying the outstanding view – everything has been attentively, although discreetly, arranged," said Lissoni. "Everything blends in to create an atmosphere of serene tranquility. One has to feel 'at home' here."
Fantini and the CEO of Lissoni will speak at Design Chicago today about their collaboration on the new Fantini headquarters, factory and hotel.