Ferguson Bath, Kitchen & Lighting Gallery Opens in Washington, D.C.
---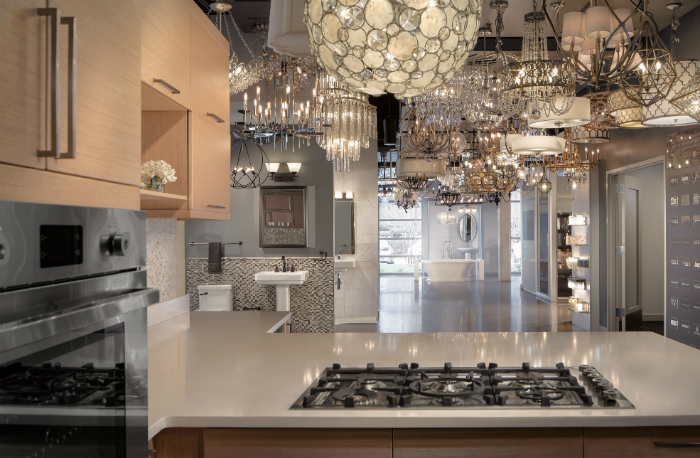 June 1, 2018
Ferguson Bath, Kitchen & Lighting Gallery is now open in Washington, D.C. The 7,500-sq.-ft. boutique showroom is nestled within the upscale retail shopping and high-end metro living of Friendship Heights. A wide range of products are on display, including decorative lighting, custom cabinetry, high-end appliances and plumbing.
"Our move to this trendy location allows us to offer an upscale, consultative shopping experience to customers within the beltway," said Michelle Anderson, director of showroom and builder business for Ferguson Bath, Kitchen & Lighting Gallery in Metro Washington, D.C. "Previously, when designers, architects, remodelers or homeowners wanted to update a high-end D.C. residence, they traveled to Maryland or Northern Virginia to see luxury products first-hand. Now they can visit our showroom, located one block away from the Friendship Heights Station Metro stop."
The showroom features luxury brands such as Gaggenau in the working kitchen, DXV in the working faucet display and a display wall of trending decorative black light fixtures. The showroom also includes a lighting lab, outdoor appliances and frameless cabinets. A cabinet designer is available to assist with custom specifications, product selection and budgeting.
"The D.C. showroom is more than a place to see product; it's also a space where our customers can create, collaborate and learn," said Anderson. "For example, homeowners can spread out their idea books alongside their designer's sample books to find inspiration. Architects can reserve the lighting lab to host client meetings. And trade professionals can attend continuing education unit courses presented by our vendor partners. The showroom is a truly multifunctional space geared toward the needs of all our customers."
Homeowners, builders, remodelers and designers can visit the new showroom, located at 5225 Wisconsin Ave. NW. Walk-ins are welcome; however, appointments are recommended.