Ferguson Works with Veterans to Bridge Skilled Trades Gap
November 11, 2023
This Veterans Day, as the nation pays tribute to the bravery and sacrifices of its military veterans, it's also a moment to recognize their indispensable role in addressing the burgeoning skilled trades gap. Amid a growing shortage of skilled trades professionals, Ferguson, the largest plumbing distributor in the country, stands at the forefront of initiatives to bridge this critical gap.
The Skilled Trades Gap: A National Challenge
The skilled trade gap is an escalating concern across the United States. According to the U.S. Bureau of Labor Statistics, by 2029, there will be an estimated 1.4 million skilled trades job openings due to retirements and economic growth. Not addressing the shortage could lead to higher costs for businesses and consumers, reduced competitiveness and slower economic growth.
In the face of these statistics, Ferguson has actively recruited and trained veterans to bolster the skilled trades workforce. Meet Keith Germain (above and below), a fabrication associate at Ferguson's Chicopee, Mass. branch, whose journey from the military to the skilled trades exemplifies the remarkable potential of veterans in this field.
From the Service to the Skilled Trades: Germain's Journey
Germain is a remarkable individual with an extensive background in military service. Serving as an Army Infantryman and then enlisting later in the Air Force, he completed three deployments in Afghanistan, Iraq and the United Arab Emirates. His military experience instilled in him qualities such as innovative thinking, resilience and teamwork.
Following an honorable discharge, Germain sought a civilian workplace aligning with his military values and skills. He found this at Ferguson. Germain's unique background, forged by his military service, has proven to be an invaluable asset to the Ferguson Fire & Fabrication team in Chicopee, where he excels as a skilled trade professional cutting, grooving and grinding fire sprinkler pipe.
Germain's choice of Ferguson was deliberate. "I chose Ferguson because of its strong emphasis on team collaboration and innovation." Despite lacking specific fabrication experience, his familiarity with machinery and heavy equipment from his military service allowed him to learn various fabrication techniques quickly. He seamlessly integrated his existing knowledge into his role.
Germain stated, "The managers at Ferguson are receptive to letting me learn new things," highlighting the growth opportunities he saw within the company. His military-informed work ethic, encapsulated in the adage, "slow is smooth, and smooth is fast," emphasizes meticulous task execution, even in time-sensitive scenarios. This mindset minimizes errors and fosters a culture of excellence within the entire Ferguson Fire & Fabrication team.
Germain's journey, transitioning from military service to a thriving career in the skilled trades at Ferguson, underscores the substantial contributions veterans can make. His blend of skills and experiences is pivotal in bridging the skilled trades gap, ultimately strengthening the workforce and the nation.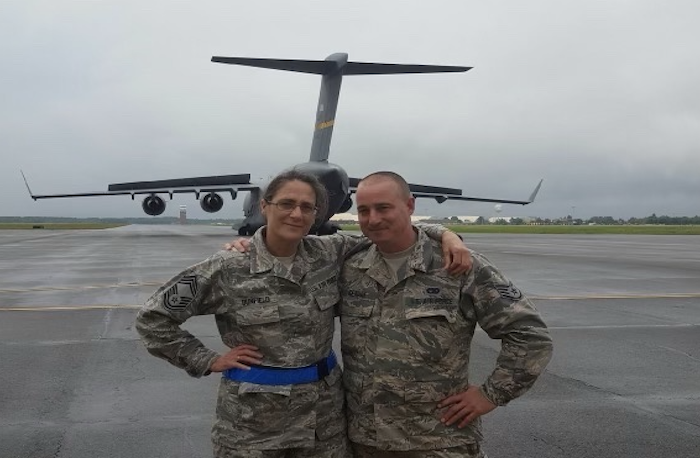 Ferguson's Commitment to Veterans and Skilled Trades
Ferguson's commitment to hiring veterans extends beyond offering jobs. The company has established a business resource group (BRG) committed to learning and supporting the needs of associates who are veterans, spouses and family and friends of the military. The BRG acknowledges and promotes the transferable skills veterans acquire during their military service, such as discipline, attention to detail and the ability to thrive in high-pressure situations.
Major (Ret.) Quinn J. Overton, business development manager for Ferguson, brings a wealth of experience from his 20-year military career. Notably, he served in Iraq and Afghanistan, providing him with valuable expertise in adapting to diverse and challenging environments. His transition to a strategic role in 2016 and his subsequent service in various strategic planning roles at 4-star commands until his retirement as a Major in 2023 reflect his depth of knowledge in organizational strategy and adaptability.
Overton now plays a pivotal role at Ferguson, overseeing the rollout of key strategic initiatives, with a particular focus on advancing dual-trade opportunities. With a profound understanding of the pressing need for filling the pipeline of skilled trade professionals, he is a valuable advocate for veterans and their contributions to addressing the skilled trade gap.
Overton emphasized the value of veterans, stating, "Not only are many veterans already skilled in a specific trade, but they also bring a distinct set of qualities to the table, most notably a tenacious commitment to service and the ability to adapt.
"It is not just our training that has prepared us, it is our daily lives as service men and women. The very nature of our service prepares us to serve in any capacity and adapt to challenges encountered in the skilled trades. Ferguson understands this and provides veterans with the essential support and resources to thrive."
Germain's and Overton's journeys represent just one facet of how Ferguson is making a lasting impact. However, his story is just part of a broader effort to address a pressing national issue. A 2023 report by the Associated General Contractors of America (AGC) found that 88% of construction firms surveyed had trouble filling skilled trades positions. This stark statistic underscores the urgency of Ferguson's commitment to empowering veterans to bridge the gap in the skilled trades workforce.
Ferguson has actively supported Homes For Our Troops (HFOT) since 2016. HFOT's mission is to provide specially adapted custom homes for injured veterans. Beyond HFOT, Ferguson is tirelessly working to rebuild a sustainable pipeline of skilled trades professionals in the U.S. through hands-on training. The company understands that by addressing the skilled trades gap and aiding veterans in rebuilding their post-service lives, they contribute to the overall growth and stability of the nation's workforce.
Supporting Veterans Beyond Hiring
In addition to training initiatives, Ferguson offers competitive compensation packages and avenues for advancement. This empowers veterans like Germain to enter the skilled trades and flourish, building prosperous long-term careers.
"Working at Ferguson enables me to continue working in a team environment," says Germain. "I enjoy contributing to the team and having an opportunity to learn and grow every day. It's a fulfilling career that I wouldn't have found without Ferguson's unwavering support."
Ferguson's dedication to veterans goes beyond mere recruitment and training. The company actively supports veteran associates with initiatives like career development, mentorship programs and access to mental health resources.
A National Effort: Veterans in Skilled Trades
Neil McElwey, Germain's manager at Ferguson, speaks highly of his contributions to the team. He says, "Keith's military background, along with his previous career, equipped him with a strong work ethic and the ability to lead by example." McElwey sees Germain as a role model for the team, consistently stepping up to improve their processes and ensure that their customers receive the best service possible.
Notably, McElwey acknowledges the significance of military experience within the fabrication team at Ferguson. He says, "Many team members, like Keith, have served in the armed forces, bringing their military discipline and skill trade expertise to the workplace. This creates a dynamic and supportive environment where the team members are not only valued for their contributions but also for their shared experiences as veterans."
Ferguson's dedication to leveraging veteran recruitment and support to address the skilled trades gap mirrors the broader national effort to recognize veterans' potential in various industries. This Veterans Day serves as a reminder that veterans not only merit our gratitude but also play a pivotal role in the nation's growth and development.
Germain's Message on Veterans Day
"As we commemorate Veterans Day, I hope people grasp the connection between honoring veterans and allowing them to use their skills after their service. We've served our country, and now we're here to serve our communities and work in a team environment."
Ferguson's unwavering commitment to veterans, epitomized by Germain's journey, underscores the potential for synergy between the private sector and the veteran community to address crucial workforce challenges. This Veterans Day let's salute our veterans for their service and acknowledge their crucial role in building a more robust, resilient America through their contributions to the skilled trades.
—Photos courtesy Keith Germain