From Frenemies to Fast Friends: Connecting Designers and Technology Integrators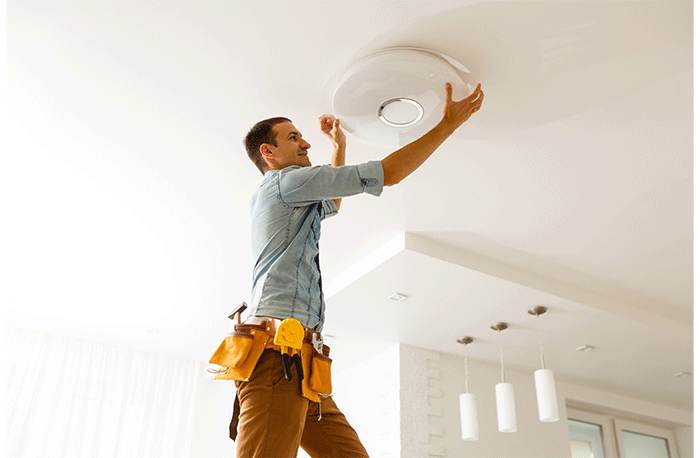 September 15, 2022
Historically, technology has not always had the most design-forward approach. Clunky boxes, rat's nest of cords and off-putting colors have been the standard up until just a few years ago. In fact, it was not terribly long ago when miniature TVs took up premium counter space in kitchen and dining spaces, offering many American households dinner and a show in an eye-sore of a form factor.
The kitchen is the heart of the home, as we hear again and again, so it's no surprise that homeowners are looking to add the same technology and convenience here that they enjoy in the rest of their houses. And even if it's unconventional and intimidating to your floor or counterspace, the reality is that technology is not going anywhere. New research from Parks Associates reveals that 27% of smart home device owners now own three or more devices and continue to buy more.
While there's no slowing down smart home adoption, it's essential that designers explore the pioneering smart kitchen and bath solutions that enhance its convenience while still optimizing style. Just consider how far we've already come in TVs alone. Gone are the boxes on the counter fighting with your microwave or blender for outlet access. Instead, displays have gotten thinner, have gone wireless and even mimic artwork.
Other technologies – lighting, smart appliances, energy management and more – also follow an evolving and fast-growing path for cases across the home. As the most design-forward parts of the home become technology-rich, partnering with  technology integrators can help designers grasp the full spectrum of products available, growing their portfolio and delighting customers alike. If you think this is an area you can ignore, it could cost you business.
With Whom Should I Work?
Technology can be a bit intimidating for designers, but luckily there is an entire industry dedicated to installing it in the home. These professionals, often called technology integrators, are skilled at delivering a holistic technology experience that blends with a homeowner's lifestyle and the design elements of any given space.
You may be surprised to learn that according to recent research by the Custom Electronics Design and Installation Association (CEDIA), 79% of these technology integrators are working in the luxury space, so they are more than well versed when it comes to the needs of working with this clientele. The systems these professionals design are much more sophisticated than the out-of-the-box DIY technology solutions found at major retailers, and the customized technology trend is certainly starting to hit the kitchen and bath market.
Technology integrators are often the missing piece of the puzzle when it comes to technology in the home. Much like designers, integrators often start with a discovery process that helps align homeowner needs with the technology that matches their lifestyle and in turn blends seamlessly into the home's aesthetic. As designers can opt for certifications and professional accolades to provide their credibility, home technology professionals bolster their own proficiency in the same way.
Validate the pro you choose to work with just like you would for any other subcontractor on your job by seeking certified integrators. Just like the National Kitchen & Bath Association is the professional association for kitchen and bath designers, CEDIA is the professional association for home technology professionals, offering several certifications for full-home technology projects in addition to more tailored qualification opportunities in specific technologies. Seeking out dealers with these credentials will help you ensure a job well done when designing tech into your clients' home projects.
Crossover Exists: Embrace It – Don't Fear It
There are a few entry points we see leading the way for technology to become a mainstay in the kitchen and bath. Automated lighting and shading scenes do wonders for setting a mood, ensuring safety and privacy and adding convenience – not to mention the array of styles and fabrics that can further customize this techforward addition.
Also offering new levels of convenience are smart appliances, and if you saw the latest designs at the 2022 Kitchen & Bath Industry Show, you know they're pretty attractive devices. In addition to the regular roles they play in the kitchen, smart appliances can help your clients stay on top of their grocery list, recommend recipes and even remind them when that pesky water filter needs to be replaced. As a designer, you've probably seen the smallest conveniences can make the biggest impression on homeowners – and technology can often be the same. Furthermore, homeowners want it and are asking for it.
When it comes to the home technology side of the coin, we are seeing more manufacturers and integrators embrace the crossover that exists within the space. Manufacturers of technology products want to set integrators up for success in working with designers. At Hunter Douglas, we know that shades are often in the purview of both designers and integrators, and there is a natural crossover when it comes to automated shading. Designers deliver expertise in helping clients choose the best fabrics and styles, while integrators can showcase the benefits that come with automation.
At the end of the day, designers and integrators have a lot in common; they are both engineers of solutions that enhance a homeowner's lifestyle. There has never been a better time to begin working technology into your projects.
CEDIA Expo is taking place in Dallas from Sept. 29-Oct. 1, and you can register here to attend.
By Scott Stephenson, director of product management for Hunter Douglas, Hunterdouglas.com
Photo credit: Angelov/Adobe Stock