GE and Keurig Introduce the GE Café Series Refrigerator
---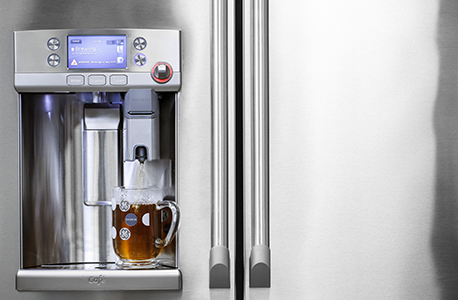 January 16, 2015
GE Appliances has partnered with Keurig to create the GE Café Series refrigerator with Keurig K-Cup Brewing System. The new technology, a spin-off of the Café French door refrigerator's hot water dispenser, answers the demand for single-cup coffee dispensers.
According to a 2014 National Coffee Association coffee drinking trends survey, 29 percent of respondents who drink coffee use a single-cup brewer – a 50 percent increase from the previous year. In addition, the French-door, bottom freezer refrigerator is among the fastest-growing kitchen products in the industry.
"This consumer demand is driving innovation," said Dan Goldstein, marketing directing at GE, at the product launch. "People want their refrigerators to organize their lives better."
By integrating the Keurig K-Cup brewing system into the refrigerator, counter space is freed up and allows for a new level of convenience. The system is compatible with more than 60 major brands, including the top K-Cup brands in America like Folgers, Maxwell House, Starbucks, Dunkin' Donuts, Eight O'Clock, Community Coffee and Peet's Coffee and Tea.
The coffee, made at the same rate of a countertop Keurig, is made by inserting the cup into a small brewer and indicating size and temperature. The brewer is easily removable and dishwasher safe. The dispenser system, which also can produce ice coffee, ice and water, removes 98 percent of five trace pharmaceuticals from water.
An individualized cup of coffee can be created with the device, which determines both the size of a cup and the temperature preferred. Using GE connected technology, consumers can use a mobile app to preset their brew time so the water in the reservoir is already waiting in the morning for them.
Made in GE's Lousiville, Ky., headquarters with 3D printing technology, the GE Café Series refrigerator is Energy Star certified and will start production late this summer for availability in the fall. The refrigerator will also be showcased at KBIS, at GE's Booth N563.