Geberit Updates "Better by Design" Brochure
---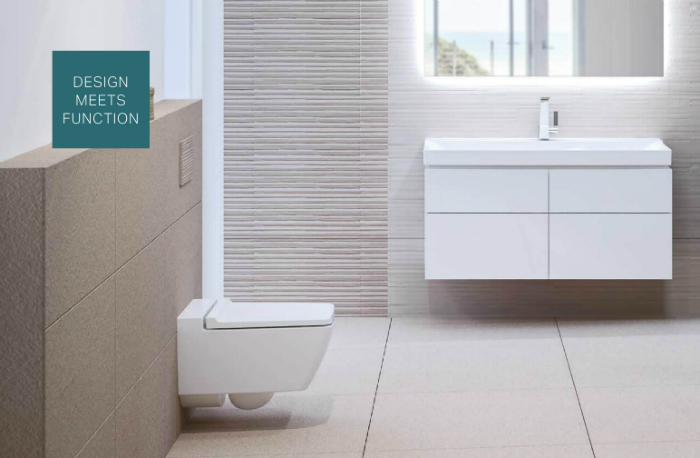 July 11, 2018
Geberit North America has released an updated version of its Better by Design brochure for 2018, featuring new images of in-wall carrier systems and associated components as well as detailed installation information for builders and plumbing professionals. The 24-page brochure will help inspire designers, architects, engineers and plumbers to look at restrooms with new vision and insight, while integrating the technical information that is essential when specifying in-wall systems. The brochure features exclusive Geberit in-wall Duofix carrier systems for wall-hung toilets, urinals, bidets and lavatories, which are designed to accommodate both new construction and renovations.
The brochure includes an easy, step-by-step method to select a complete Geberit in-wall toilet system, including in-wall carrier, wall-hung toilet, toilet seat and actuator plate. Designed to integrate all the details in one format, the brochure includes a comprehensive product selection chart, four full-color pages featuring over 70 designer actuator plates, installation information and project references. Colorful, full-page images of the Geberit system in completed bathrooms are included to help designers, installers and showroom personnel visualize the possibilities and select the right system for their individual designs.
The updated Better by Design brochure expands on the technical information provided in the previous version, featuring new graphics with step-by-step installation instructions for 2-by-4 or 2-by-6 wall construction. The update also introduces graphics that detail multiple water closet configurations using the Geberit Duofix carrier, making it easy for builders and installers to visualize the internal plumbing for their projects.
The brochure highlights benefits of using the Geberit system, including increased usable space, improved accessibility, easy installation and nearly maintenance-free performance. More detailed information on space savings, installation, design flexibility, hygiene, water savings, maintenance, technical specifications, strength and stability are provided throughout the Better by Design brochure, which is available for download at www.geberitnorthamerica.com.