Geberit's Updated Brochure Inspires Bathroom Design
---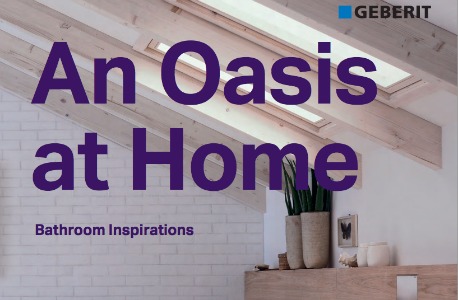 November 17, 2015
Geberit's updated An Oasis at Home: Bathroom Inspirations, offers designers, installers and homeowners ideas and product selections. The 26-page brochure showcases a wide range of Geberit products, including in-wall systems for toilets, urinals and lavatories, bath waste and overflow (BWO) systems and Geberit Monolith, a unique alternative to the traditional tank and toilet.
The brochure also covers a variety of information on new flush plates for use with Geberit in-wall toilet systems. Technical information and design inspiration are presented in an easy-to-read format, with large, full-color photographs shown throughout.
The Geberit Concealed Tank and Carrier system for toilets allows the design to shine by hiding the unsightly tank and plumbing hardware behind the wall. The only visible element of the system is the stylish flush plate. This opens up the space and gives designers the flexibility to have it all — more space, improved aesthetics, water savings and maximum accessibility.
The flexible, adaptable Geberit in-wall systems are designed for easy installation, attaching to existing wall framing and supply and waste piping using standard tools. Engineered for reliability, the Geberit toilet system utilizes a rugged steel frame and seamless tank. The toilet and bidet carriers withstand a maximum load of 880 lbs. Once installed, the system is practically maintenance-free. Should it become necessary, however, simple change-out of components can be accomplished without the use of tools. The internal components are easily accessible through actuator flush panels, which are available in different styles, colors and finishes.