Hardware Renaissance Enlists Social Media to Name New Hardware
---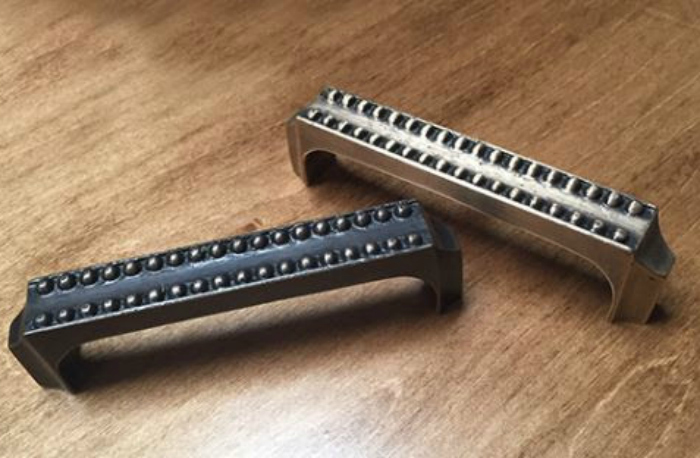 November 9, 2016
Hardware Renaissance, the designers and manufacturers of hand-forged iron and sand-cast bronze door and cabinet hardware, announced that the naming rights to the brand's soon to be released collection of hardware was chosen by fans of the manufacturer.
"We have the most engaged followers on Facebook. I love the thoughtful responses, comments, and suggestions – opinions run quite strong," said founder of Hardware Renaissance Anagha Dandekar. "When I designed these new cabinet pulls, I thought it would be exciting to get our fans in on naming them. It's an innovative way to engage people, and I trust them to pick up on the design cues and suggest wonderfully appropriate names. And they came through!"
With the winning name "Bridgeway," the new cabinet pull has a bridge-like structure and form. The outline is refined, yet graceful. The broad space between the textured details is reminiscent of the wide-open space between a bridge.
Luan Swigert from Monmouth, Ill., is the winner who came up with the name Bridgeway. She "liked" Hardware Renaissance's Facebook page in 2014 when she was considering replacing the hardware in her kitchen.
"I picked this name as I really like older, vintage looking train bridges," Swigert said. "This pull looks sturdy and hardworking like a bridge. I will have to decide on a special place (or) cabinet to put it on!"
The runner-up winners are Jenny Rominger from Mattoon, Ill., who entered with the name Castleton, and Robin Woodard Marshall from Tucson, Ariz., who entered with the name Empire. Runners-up also received prizes for their efforts.
The contest received close to 150 comments on Facebook, bringing together a diverse cross-section of existing and newer fans, all of whom had interesting and creative ideas about naming the new collection.