Hardware Resources Releases Latest Version of Vanity Visualizer Design Tool
---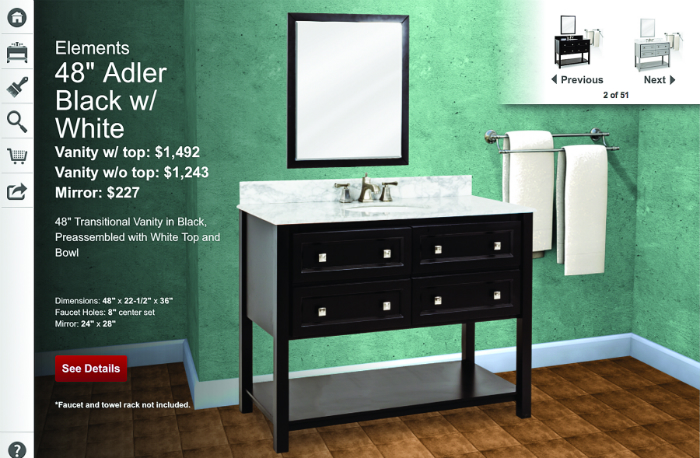 May 14, 2018
Hardware Resources offers a design tool for pros and consumers: the Vanity Visualizer. The online tool allows users to select vanities from Hardware Resources' bath cabinetry collection and envision how those products will look in their own bathrooms. Because one size and style does not fit all, recent updates to the Vanity Visualizer arms designers and consumers with everything they need to make educated decisions, including more photographs and enhanced flexibility to create the virtual bath environment that reflects their individual tastes.
With the Vanity Visualizer, customers start by choosing the color and texture close to their bathroom's walls and flooring. From there, the selection process begins. Users can select the style of vanity, be it traditional, transitional, modern, or all three simultaneously, from their favorite Hardware Resources vanity brand. Next, they choose the color and size from hundreds of options, and as the final step, the Vanity Visualizer reveals how the vanity design will look in the customer's bathroom. Users can switch out options and see changes in real time until they have created their ideal vanity design. Throughout the process product pricing and dimensions are revealed, enabling customers to make selections within their budget, and once they've reached a decision, the platform offers the ability to print out and download a spec sheet.
"Remodeling a bathroom can sometimes be overwhelming for consumers, as they navigate seemingly endless product options and color choices," said Craig Spence, products manager, Wood Products for Hardware Resources. "Our Vanity Visualizer eases this burden with an intuitive, efficient product selection tool that helps homeowners truly envision how vanities will look in their homes and thereby make more informed, confident decisions."
Hardware Resources' upgraded Vanity Visualizer with new products, photos and current pricing now invites users to select from more color options, including white, chocolate, black, espresso, gray, or simultaneously compare all the colors, which ensures the most accurate and stylish match to their existing bathroom. The Vanity Visualizer's interactive interface works on desktop browsers as well as tablets and smartphones. Access the tool at VanityVisualizer.com.