Hot Tubs as a Hot Commodity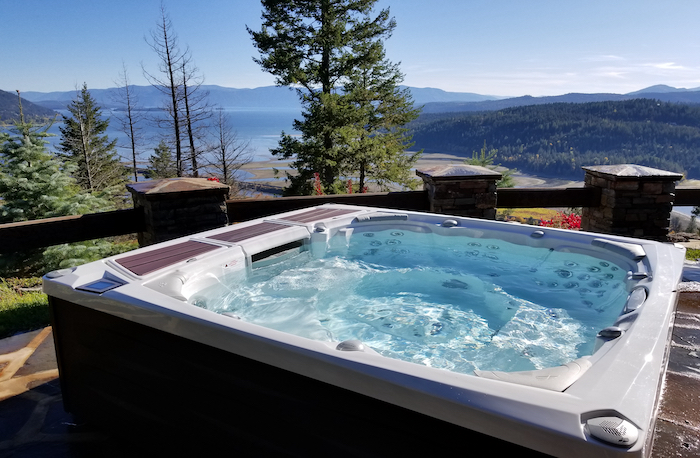 August 1, 2022
Paralleling the increase in the popularity of outdoor kitchens, the desire for al fresco bathing fixtures like showers and tubs is also surging. A majority of Americans believe having a hot tub would have a role in improving their lifestyles, according to a survey commissioned by Jacuzzi Group, a global manufacturer of premium spas, and conducted online by The Harris Poll. According to the survey of more than 2,000 Americans adults, 71% say hot tubs would improve their lifestyle and 73% say if they were planning to purchase a hot tub, they would more likely do so if they could try it first in an acceptable (e.g., safe, engaging) environment over one that does not. When it comes to how Americans feel in a hot tub, "relaxed" (65%) and "peaceful" (51%) top the list, followed by "happy" (40%), "refreshed" (38%) and "pampered" (37%).
In addition, the Jacuzzi Group survey reflects the importance of completely transforming the shopping environment and offering experiences that reflect current consumer needs during the time of COVID-19. Specifically, the survey provides telling insights about what Americans expect when shopping for premium big-ticket items like hot tubs:
Delivery, installation and tech support play key roles in purchasing big-ticket items. Three in five Americans (60%) say a retailer providing delivery and installation services would help them make a big-ticket item like a hot tub purchase, and nearly half (48%) say providing technical service and support would help them do so.
Responsive communication is vital to consumers. More than one in three Americans (35%) say a retailer providing responsive communication would help their purchasing decision.
Flexible shopping facilitates buying decisions. More than one in four Americans say allowing flexible shopping hours (28%) and virtual shopping (27%) would help them make a big-ticket item purchase.
"People are looking to live happier lives, and many are shopping for products like hot tubs to make that a reality. In order to support these purchasing decisions, retailers need to be far more innovative," said Anne-Marie Nealy, senior director of brand marketing for Jacuzzi Group. "This is definitely a new frontier for this industry and our dealers are rising to the challenge – by providing virtual shopping, private appointments for onsite trial and other new services – in order to make customers feel safe during their shopping experience."