House of Buster + Punch Opens Its "Doors"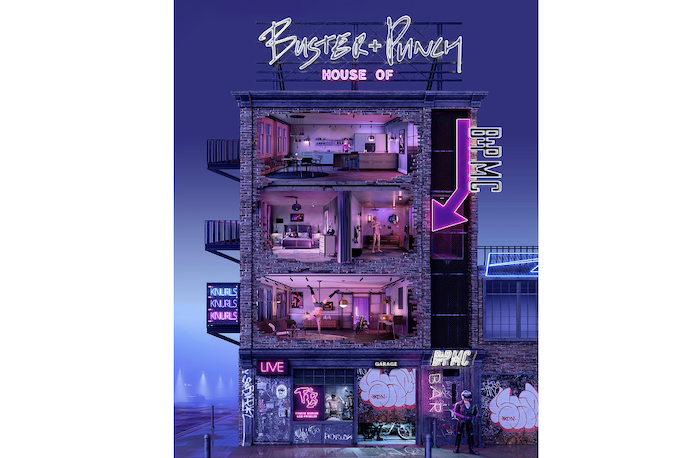 October 30, 2022
Through a year of spectacular reveals, Buster + Punch is set to release several new product ranges – including shopping by room – all driven by the central House of Buster + Punch concept.
The House of Buster + Punch is the new omni channel campaign from London's provocative home fashion label, Buster + Punch. It is a bold, energetic concept that utilizes original music, film, animation and pop culture references to pull the viewer into an immersive digital experience where interiors can be shopped at a click.
Ineffably captivating, the House of Buster + Punch itself is a refreshing attack on traditional design sensibilities. With a rich cacophony of sound, color and piquant details to engage the eye, Buster + Punch has boldly reimagined the way interior brands present to the public.
The android residents invite viewers into their hypnotizing world – unveiling a plethora of subcultural influences and meticulous design energy that is the foundation of the iconic Buster + Punch brand. It is an amalgam of audacious fashion style and rebellious interior design – a uniquely immersive and surreal home decor buying experience.
House of Buster + Punch is about the theater of design and the experiences that go beyond a product – catering to an audience that is increasingly making buying decisions before pieces even hit a store. Featuring young talents and tastemakers spanning music, film, social media, dance, and photography, the House is entertainment and inspiration. "House of Buster + Punch gives a glimpse into the future of interiors and retail, with an emphasis on performance and raw entertainment. It is us connecting our audience with the brand, products and talents we've selected to work with, in a deeper way than they would at a trade show or in a store. We want to give interiors the same energy and heightened production values as a conceptual fashion show or music video, to ultimately create excitement and debate in a sleeping interiors industry. This is a wakeup call," said Massimo Buster Minale, founder and creative director, Buster + Punch.