Houzz App Introduces View in My Room
---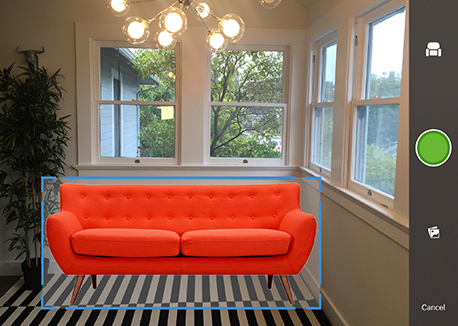 February 17, 2016
Houzz Inc. has launched View in My Room within its free app for iPhone, iPad and Android.
With View in My Room, app users can virtually place and see more than 1.8 million products from the Houzz Shop in their own homes before they buy. View in My Room is an extension of Sketch, a mobile tool that gives people the power to experiment with home decor options, such as adding items like furniture, lighting and more from the Houzz Shop to any photo.
"Our mission since day one has been to deliver the best experience for home renovation and design on the web, and now we're doing the same for shopping for your home," said Alon Cohen, president and cofounder of Houzz. "View in My Room helps people bring design ideas to life and instantly buy the best products for their homes, whether they're working on a large-scale renovation or simply looking for the perfect item to complete the look of a room."
To use View in My Room, a user simply taps the "View in My Room" button on a product page to launch their device's camera. When the camera is held up to display the room, the selected product will appear in the middle of the screen, allowing the user to see how the product looks in their space. Users can then buy the product within the Houzz app or capture what's on their screen, creating a Sketch that is saved to a Houzz ideabook where it can be shared with family, a home professional or other collaborators.