Houzz Conducts "Pets & The Home" Survey
---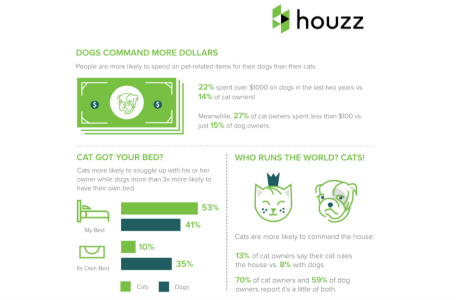 October 14, 2015
Houzz recently conducted its first-ever survey of how pet owners around the world cater to their pets in their homes. Based on more than 10,000 responses received, Houzz determined that households across the globe revolve around pets. In fact, when it comes to who rules the home, the pet owners or their pets, 70 percent of cat owners and 59 percent of dog owners admit that it is a bit of both. 
The Houzz Pets & The Home survey found that:
Remodeling Goes to the Dogs (and Cats) – More than one-third of dog and cat owners have made pet-related upgrades to their home in the last two years (35 percent), including updating their flooring (38 percent), landscaping (21 percent) and room layout (19 percent).
A Home of Their Own – Nearly half of pet parents have dedicated spaces in their homes for their dog or cat (46 percent). This includes beds/seating areas (61 percent), dining areas (37 percent) and play structures (23 percent). One in five have a built-in pet nook (20 percent).
Cat Got Your Bed? – 53 percent of cat owners and 41 percent of dog owners share their bed with their pets at night.
Pet Peeves – Fur/hair is the top challenge for pet owners in the home (70 percent), followed by tracking in dirt/mud/outdoor elements (43 percent) and smells (31 percent). 
Dogs Command More Dollars – 22 percent of dog owners spent more than $1,000 on pet items for the home in the last two years vs. 14 percent of cat owners. Meanwhile, 27 percent of cat owners spent less than $100 vs. just 15 percent of dog owners.