Houzz Launches Room Planner in Houzz Pro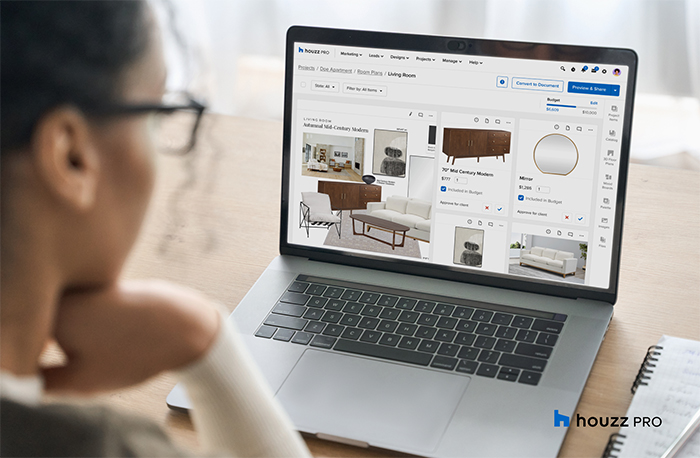 December 14, 2022
Houzz Inc., the platform for home remodeling and design, has announced the launch of Room Planner for Houzz Pro, the all-in-one business management and marketing software for interior design and remodeling professionals. The Room Planner gives designers a highly-visual, collaborative workspace where they can create, discuss and share multiple design concepts internally with their team and externally with clients. 
"Designers told us they wanted a single concepting space where they can pull all of the visuals for a room design together, collaborate with their teams and create beautiful, professional and actionable presentations for clients," said Alon Cohen, Houzz co-founder and president. "We're excited to bring this all together in the Houzz Pro Room Planner, providing designers with an easy-to-use, visual workspace to discuss and share designs internally and externally."  
Within the Room Planner, designers can create design concepts, using all relevant Houzz Pro features, in a single canvas. They can pull in moodboards, clipped or uploaded products and associated information like pricing and dimensions, 3D floor plans created in Houzz Pro, lifestyle or other photos, and related files. They can also set a budget for the space and see how each product impacts it using the Budget Snapshot feature. The tool enables designers and their team to add internal or client-facing notes on individual items within the Room Plan, to help speed up the approval process. 
When ready, designers can share a Room Plan with their clients from which the client can add comments and approve or decline products. Designers can customize the shared view for visual impact by choosing small, medium or large formats in which to display each element on the canvas, setting a cover image and choosing whether to hide or include the budget tool. Tear sheets can also be downloaded from within the tool. Room Plans can be added to the Houzz Pro client dashboard, including multiple Room Plans for projects with more than one room. Designers can also create multiple room concepts and enable clients to choose the direction or specific products they prefer. Once a concept is approved, designers can convert the plan into a proposal or invoice. 
The Room Planner is available to all Houzz Pro design subscribers in the U.S. and is fully integrated into Houzz Pro, making it easy for designers to move from concept to presentation and client approval.