Houzz Pro Now Includes Outdoor Spaces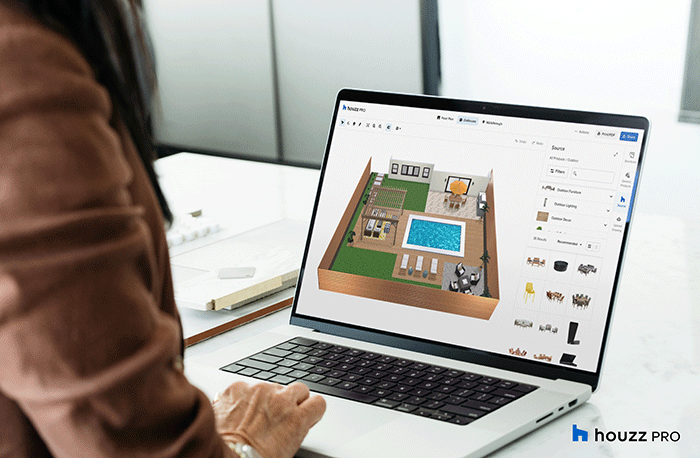 November 3, 2023
Houzz Inc. has introduced outdoor features for the 3D Floor Plan tool in Houzz Pro, the all-in-one business management and marketing solution for residential construction and design professionals. Pros can now create outdoor spaces in their 3D Floor Plans to help clients understand how a design flows from the interior of their home to its exterior. The new features help pros to showcase the size, layout and design of an outdoor space, so clients can feel confident moving forward with the project.
"Expanding the Houzz Pro 3D Floor Planner to support outdoor spaces was a natural progression of the tool and a top request from current pro users," said Alon Cohen, Houzz co-founder and president. "Homeowners are prioritizing outdoor living and benefit from having robust visuals of finished spaces."
Pros can now create outdoor spaces, such as decks, patios, lawns and driveways, using a library of materials including pavers, ground cover, lawn, gravel, decking and pavement. Those spaces can be subdivided to display different surface materials, such as paved areas adjacent to lawn or decking. Pros can also add pergolas, swimming pools and fire pits, and outdoor furnishings like tables, chairs, umbrellas and more from the Houzz Shop. 
"The Houzz Pro 3D Floor Plan tool is easy to learn and cost effective to use, making 3D visualizations more accessible to pros and their clients," said Cohen. "With the new Houzz Pro features, pros can expand the area of the home included in their 3D Floor Plans to offer current and prospective clients a more comprehensive visualization of how a design flows from interior living spaces to outdoor living spaces."
The Houzz Pro 3D Floor Planner empowers pros to quickly and easily communicate their project vision, for both indoor and outdoor spaces, to current or prospective clients through 2D floor plans and 3D models. Pros can bring 3D floor plans to life in dollhouse and walkthrough views or present a life-sized augmented reality tour on-site at the project using the mobile app. Also just released for the 3D Floor Planner, pros and their clients can make comments directly on floor plans to improve communication and coordination with the broader teams. 
The outdoor-enhanced Houzz Pro 3D Floor Plan tool is available to all Houzz Pro subscribers around the world, making it easy for pros to create and share 3D floor plans for outdoor projects and other interior rooms to use with Takeoffs and present to clients alongside Mood Boards and Selections.
Photo credit: Houzz