Houzz Study Finds Kitchen Updates Address Decluttering Obsessions
---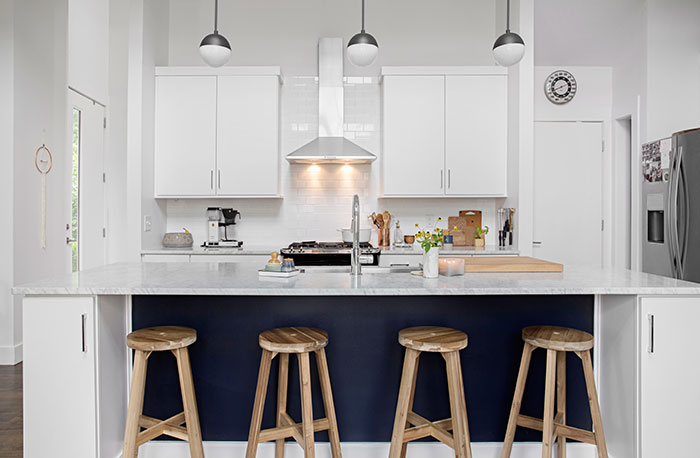 January 10, 2018
Kitchen remodelers are clearing their countertops, according to the 2018 U.S. Houzz Kitchen Trends Study. The survey of over 1,700 U.S. homeowners using Houzz who are in the midst of, are planning, or recently completed a kitchen project, found that kitchen remodelers are obsessed with decluttering their counters (75 percent), putting things away (66 percent) and recycling (49 percent). Similarly, the majority of homeowners also prioritize storage over all other functions of their kitchens (63 percent), followed at a distance by a space in which it is easy to work, play and live (38 percent), entertain (32 percent) and clean (32 percent).
With nothing visible on their countertops, it's no surprise that homeowners want and need to make updates that include a variety of cabinet storage and organization features, including pull out waste or recycling baskets (67 percent), cookie sheet/tray organizers (58 percent), revolving corner trays (44 percent), deep drawer organizers (42 percent) and pull or swing out trays and shelves (42 percent). Homeowners may be focused on decluttering in order to show off their beautiful new countertops, which are the most common major feature upgraded during renovations (94 percent) and most commonly splurged-on item (42 percent). Following growing interest in engineered quartz, it is now the most popular countertop material (43 percent), overtaking granite (34 percent). Granite has seen a three-year decline in popularity (45, 41 and 34 percent in 2016, 2017 and 2018 studies, respectively). For additional storage and countertop space, nearly two in five homeowners are adding kitchen islands, with those in rural areas being twenty percent more likely to add an island than those in urban areas.
"Our annual kitchen trends surveys reveal that consumer preferences for products, design, and technology vary not only across urban, suburban, and rural areas, but also evolve over time," said Nino Sitchinava, principal economist at Houzz. "Countertops in particular are having a real moment today as homeowners focus on decluttering surfaces for a sleek and tidy kitchen post-renovation."
As homeowners look to personalize their kitchens, there has been a 12 percentage point increase since last year in the number of homeowners changing their kitchen style completely (87 percent in 2018 versus 75 percent in 2017). The most popular new styles are transitional (25 percent) and contemporary (17 percent). Both are popular in suburban (30 percent and 17 percent, respectively) and urban (20 percent and 24 percent, respectively) areas but less so in rural areas (15 percent and nine percent, respectively). Half of kitchen remodelers also update their kitchen layout (50 percent), with L-shape (35 percent) surpassing U-shape (32 percent) as the most popular layout, following a three year upward trend for L-shape (up from 26 percent in 2016). Urban homeowners also opt for galley kitchens more often than suburban and rural homeowners (20 versus 14 and 13 percent, respectively).
Costs for kitchen renovations vary widely based on size, scope and metro area, among other factors. The average spend on a major remodel, which includes replacing at least all of the cabinetry and appliances, for a 200 square foot or greater kitchen is $42,000, while a major remodel of a smaller kitchen averages $25,800. Among the top 20 metro areas, San Francisco, CA spends the most on kitchen renovations, averaging $70,000 for a major remodel of a 200-plus-square-foot kitchen, compared with Miami, FL and Riverside, CA, the least expensive of the top 20 metro areas at $31,500 and $31,200, respectively.