Houzz Survey Finds Kitchens Outlast Most Marriages
---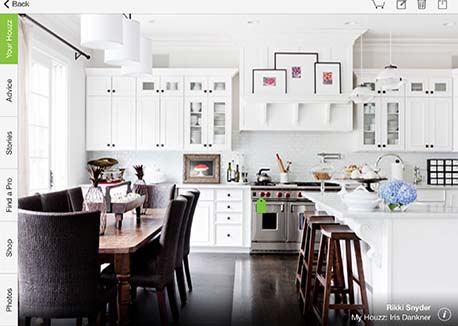 December 23, 2014
For the majority of homeowners, the relationship with their kitchen is a significant long-term commitment to both function and aesthetics, one that can last 30 years or more. According to the 2014 U.S. Houzz Kitchen Remodeling Survey, 25 percent of those choosing to remodel have kitchens that are more than 30 years old, and another 41 percent are updating kitchens that are anywhere from 16 to 30 years old. Houzz found that most kitchens last two to four times longer than the typical U.S. marriage (eight years) and duration of car ownership (nearly six years).
"We already know that kitchens are the biggest driver of discretionary spending in the remodeling market," said Nino Sitchinava, principal economist at Houzz. "As the economy has improved, many homeowners who delayed spending on kitchen updates feel like they now have the means to remodel. We should continue to see an uptick in discretionary spending on home improvements into 2015."
Kitchen renovations are a major investment, commanding the largest spending levels among remodeling projects. Given the considerable longevity and cost, homeowners are making choices to ensure they can live with their kitchens for many years to come, from products that last to designs that stand the test of time. When purchasing kitchen products, quality is the top driver for appliances and paint, and design style tops the list for purchasing lighting fixtures, cabinets and faucets. Homeowners are sticking to the classics with finishes like white cabinets (49 percent) in Shaker (37 percent) or raised-panel (22 percent) styles, granite countertops (45 percent) and stainless steel appliances (83 percent).
Given the long-term relationship homeowners have with their kitchens, making the space compatible with family and lifestyle is key. Ease of storage and entertaining are top priorities, along with organizational features, such as a built-in pantry, pullout shelves, deep cabinet organizers and built-in pet bowls. An open-concept layout, bar with seating (27 percent) and built-in wine storage (21 percent) make kitchens great places in which to spend time with family and friends. 

Other highlights from the survey include:

Kitchen remodels go big: When homeowners choose to undergo a kitchen remodel, the majority are going big with projects requiring substantial construction (68 percent).

Current spending exceeds planned budgets: Homeowners are also spending big on kitchens, and often more than they budget for their projects. More than half of homeowners budget $25,000 or less for their upcoming remodels (51 percent), yet in 2014, only 40 percent of homeowners spent less than $25,000 on remodels. Similarly, 36 percent of homeowners plan to spend between $25,000 and $75,000 on their new kitchens, but 46 percent of projects fell in this range in the past year.

Neighborhood style: The most popular styles for new kitchens include 
traditional (23 percent), transitional (18 percent) and contemporary (16 percent). While just 11 percent of homeowners are choosing a farmhouse-style kitchen, this number more than doubles for those in rural neighborhoods (25 percent).
Overwhelmingly, survey respondents plan to hire a professional for their kitchen remodel project. While the majority hire pros for construction (76 percent), many homeowners are also hiring pros for design and construction management (46 percent and 39 percent, respectively).